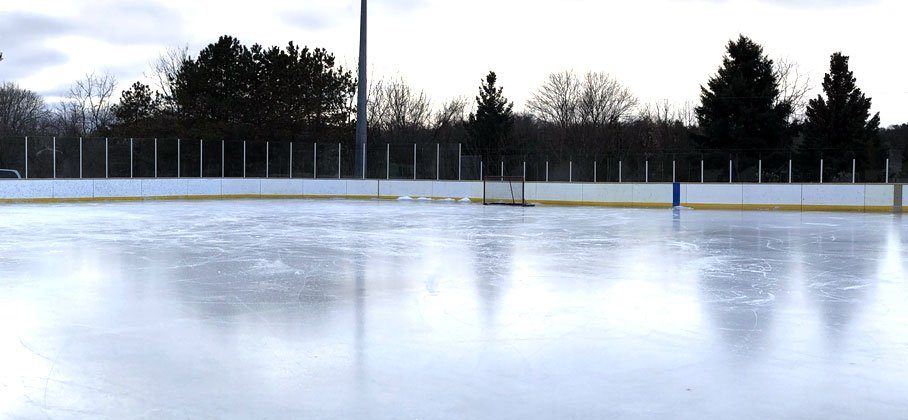 The Municipality of Port Hope's outdoor ice rink is a natural ice surface. Located on Caroline Street, lights are available when the rink is open.
Current status- CLOSED
The Caroline Street outdoor rink relies on mother nature to provide consistent cold weather in order to make ice. The rink does not have a refrigeration system. Our practice is to begin ice making when long range weather forecasts indicate daytime highs of -8 degrees Celsius or colder for a period of five days or greater. The building of the ice is completed with the help of municipal staff and volunteers. Ice thickness of a minimum 1 1/2 inches is required before the ice surface is available for public use.
The current COVID-19 shutdown has closed all recreation facilities, however outdoor ice rinks are permitted to be open at reduced capacities. As such, staff are currently working on a plan to safely open the Caroline Street rink (weather permitting) through a reservation-based approach. The hours of operation will be reduced from previous years and drop-in skating will not be permitted without a reservation.
COVID Lockdown Schedule and Reservations
Bookings will open Thursdays at 9am for the following Sunday-Saturday (once ice is available)
Open skating times are available from 1pm-8pm daily and will be booked in 45 minute time slots to allow for space for people leaving and the next group entering.
Reservations will be open to Northumberland County residents only.*
The ice surface will be a reduced size with 10 people maximum per time slot, register each person participating as one individual.
Abide by all safety protocols including a strong recommendation to physically distance and you must wear a face mask/covering.
Staff will be onsite to check-in reserved participants (no drop ins permitted) and to complete COVID screening.
Reservations are available online only and must be completed at least one day prior to the booking time (no day of reservations will be permitted).
Please note that the ice will only be available based on weather conditions. If the ice surface needs to be closed, reserved participants will receive an email of cancellation. This may be on short notice but we thank you for your patience and understanding.
If you need to cancel your reservation, please email prcbookings@porthope.ca
Reserve online.
Maintenance
Ice is maintained by the Parks Department and community volunteers. Due to the lockdown restrictions, volunteers will not be required as a temporary measure. For information relating to volunteering, please contact the Administrative Assistant at 905-885-8760 or email.