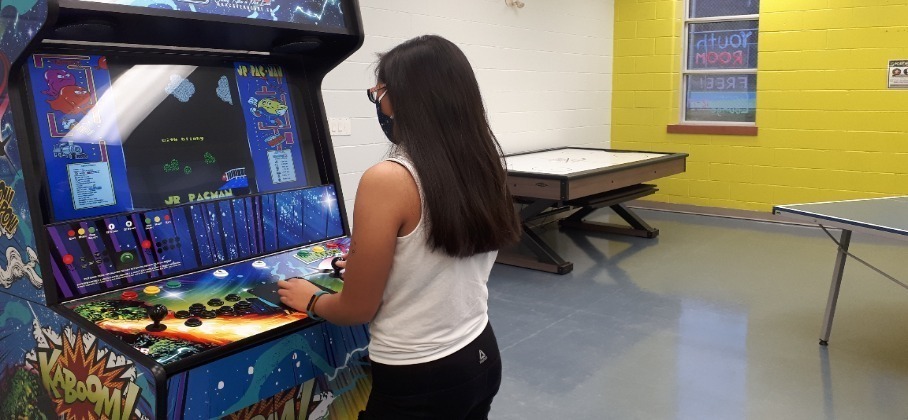 The Municipality of Port Hope offers many drop-in opportunities for youth of all ages. The youth centre is upgraded with new equipment and seating. Equipment is available to be signed out from the front desk.
The Ontario Government announced the province is temporarily moving to a modified Step Two of its Roadmap to Reopen. As of Tuesday, January 4, 2022, the Jack Burger Sports Complex and the Town Park Recreation Centre will be closed until the end of the provincial order. We are in the process of contacting user groups, and registered participants. As always, we thank you for your patience as we continue to navigate these mandates.
Hoops
Youth can reserve a spot to shoot hoops by calling the Town Park Recreation Centre or signing in at time of visit. Ages 13 to 18 years.
Wednesdays and Fridays 3:30 p.m. to 5:00 p.m.
Location: Town Park Recreation Centre
Youth hoops will not be available over the Christmas break. Please see our holiday open gym schedule for drop in times.
Youth centre
The youth centre is a safe and inviting space for youth to socialize and engage in activities. The youth centre includes air hockey, arcade, table tennis, gaming area and more. Keep your eyes open for schedules of activities to be posted. Ages 12 to 17 years.
Tuesday, Thursday and Fridays 3:00 p.m. to 8:00 p.m.
Saturdays 1:00 p.m. to 3:00 p.m.
Drop-in Fees
Drop In Gym Fees Tier 1 - Badminton/Basketball
Age Category
2022 Fees
(taxes included and rounded to the nearest quarter)
Adult
$3.75
Senior
$2.50
Youth
$1.00
Drop In Gym Fees Tier 2 - Pickleball
Age Category
2022 Fees
(taxes included and rounded to the nearest quarter)
Adult
$5.00
Senior
$3.25
Youth
$1.00
Drop In Gym Fees Tier 3 - Indoor Tennis
Age Category
2022 Fees
(taxes included and rounded to the nearest quarter)
All Ages (Child, youth, adult and senior)
$5.00