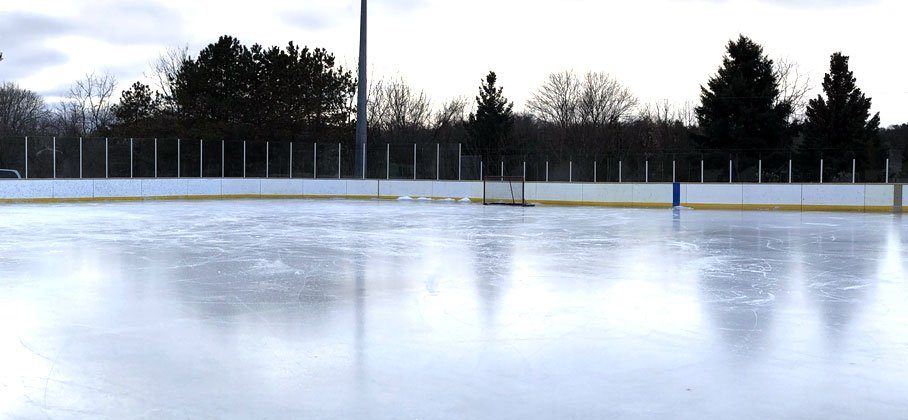 The popular outdoor ice rink, located on Caroline Street, is a natural ice surface. The rink includes professional boards and glass as well as lights, available when the rink is open.
Current Status- Closed for the Season (March 1)

The Caroline Street outdoor rink relies on mother nature to provide consistent cold weather in order to make ice. The rink does not have a refrigeration system. Our practice is to begin ice making when long range weather forecasts indicate daytime highs of -8 degrees Celsius or colder for a period of five days or greater.
The building of the ice is completed with the help of municipal staff and volunteers. Ice thickness of a minimum 1 1/2 inches is required before the ice surface is available for public use.
Reservations No Longer Required:
As a result of moving into the Orange Zone of the Provincial COVID-19 Reopening framework, and to accommodate changes in municipal operational and staffing needs for recreation facilities, effective Thursday, February 18, reservations are no longer required to skate at the Caroline Street Rink.
Those who have already booked a reservation at the Caroline Street Rink from Thursday, February 18 to Saturday, February 20 have been contacted and advised of this change.
The rink remains operational - weather dependent - on a drop-in basis, with a maximum of 25 people permitted on the ice surface at one time. Skating is available from 7 a.m. to 10 p.m.
Masks are required while visiting the Rink and participants are asked to complete COVID-19 self-screening for any potential symptoms prior to visiting the Rink. As usual, anyone who is feeling ill, or who has travelled outside of Canada in the last 14 days, or who has had contact with a confirmed COVID-19 case is not permitted to visit the Rink.
All participants are asked to be respectful and mindful of their time on the ice. If there are others waiting to skate, please limit your skate to allow others to participate. Hockey games are not permitted.
Modifications to the Caroline Street Rink protocols align with the current Provincial guidelines relating to COVID-19.

Thank you for your patience and support while we continue to assess recreation operations.
For questions about the Caroline Street Rink, please call 905-885-2474 or email us.
Abide by all safety protocols. Physical distancing is strongly recommended and all participants must wear a face mask/covering. Stick and pucks are permitted, however games of hockey are not. CSA approved helmets are recommended.
Please note that the ice is available, weather permitting.
Maintenance
Ice is maintained by the Parks Department and community volunteers. Due to the lockdown restrictions, volunteers will not be required as a temporary measure. For information relating to volunteering, please contact the Administrative Assistant at 905-885-8760 or email.