The Municipality of Port Hope offers many children's programs in the community. From tiny tumblers to junior chef, there is a program for everyone.
As of September 22, 2021, the new government-mandated proof of vaccination rules are in effect. All eligible persons visiting the Jack Burger Sports Complex, the Town Park Recreation Centre, and the Port Hope Community Hub must provide a valid vaccination receipt or certificate showing that they are fully vaccinated (has received two doses of a COVID-19 vaccine more than 14 days ago), provide a valid identification document, and complete a COVID-19 health screening.
Please visit our COVID-19 page for more details.
HIGH FIVE® programming
The Municipality of Port Hope is a HIGH FIVE® accredited community. Our camp, program, and aquatic staff are certified in the Principles of Healthy Child Development. This allows our staff to make sure your child has the best experience possible. For more information, visit High Five Programming.
Tiny Tumblers
A fun approach to active play! Parents and tots work together to explore cooperative activities to get moving. Parents/caregivers will be required to wear a mask into the building and maintain physical distancing. Indoor shoes are required. Ages 1 to 3 years.
Mondays 5:30 p.m. to 6:15 p.m.
Location: Town Park Recreation Centre
HIGH FIVE®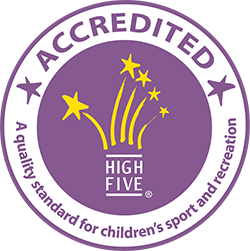 HIGH FIVE® is Canada's quality standard for children's programs and is an innovative approach to help us enhance program quality and provide positive experiences for children. HIGH FIVE® supports us with Training and Development, Program Assessments, Policies and Procedures and Awareness. HIGH FIVE® is a standard committed to assisting children along the path of healthy child development by:
Ensuring that program practitioners develop a high level of knowledge and expertise in child development;
Helping parents to make informed choices and;
Providing practitioners with the tools for enhancing and maintaining a high level of program quality.
The Municipality of Port Hope is proud to be an Accredited HIGH FIVE® organization, maintaining the highest standard in Canada
Canadian Physical Activity Guidelines
It is proven that being active helps young kids:
Develop self-confidence
Improve learning and attention
Improve movement skills
Feel happier
Children 0 to 4 Years
It is recommend by the Canadian Society for Exercise Physiology that infants (less than 1 year) should be physically active several times daily, particularly through interactive floor-based play. Examples of floor-based play include tummy time, reaching for toys, and crawling around the home. Toddlers (aged 1 to 2 years) and preschoolers (aged 3 to 4 years) should accumulate 180 minutes of physical activity at any intensity spread throughout the day. These activities include:
Activities in different environments
Activities that develop movement skills
Progression toward at least 60 minutes of energetic play by age 5 years
Children 5 to 11 Years
It is recommend by the Canadian Society for Exercise Physiology that children should accumulate at least 60 minutes of moderate to vigorous-intensity physical activity daily. This should include vigorous-intensity activities at least 3 days per week. Moderate-intensity activities include bike riding and playground activities. Vigorous-intensity activities include running and swimming.
It is also beneficial to include activities that strengthen muscle and bone at least 3 days per week.