The Municipality of Port Hope offers many children's programs in the community. From tiny tumblers to junior chef, there is a program for everyone.
PA Day Activities- November 27, 2020
All activities must be reserved in advance (available starting November 19) and regular fees apply.
Town Park Recreation Centre
Reserve online or call 905-885-7908 to reserve your spot.
Basketball Shoot 3:30-5pm Ages 15+
Youth Centre 1-5pm Ages 12-17yrs
Jack Burger Sports Complex
Reserve online or call 905-885-2474 to reserve your spot.
Family Swim 10:45am – 11:00am
Public Swim 2:15pm - 3:00pm
Parent and Tot Skate 9:30am – 10:20am
Public Skate 11:00am – 11:50am
Family Stick and Puck 2:00pm-2:50pm
Festive Activities
Looking for something fun to do with the family over winter break? Stay active this holiday season with these fun suggestions from our Parks, Recreation and Culture staff.
Click here for the skating Holiday Schedule.
Click here for the swimming Holiday Schedule.
Holiday Kits
Holiday kits are geared towards ages 4-12 years and include a craft, activities, treats and more. Kits will be available to purchase for $5 each. There is a maximum of 100 kits so be sure to order before they are all gone. Holiday kits will go on sale November 30. Holiday kits will be available for pick up at Town Park Recreation Centre on December 18 and 19.
Gingerbread Person Craft Workshop
On Dec 22, we are offering a children's craft workshop where the theme is gingerbread person. There is no cooking or baking of gingerbread. Children will be creating gingerbread people out of wine corks and using clay pots to make a gingerbread home. This activity is for children ages 6-12years. The workshop will be in person at the Town Park Recreation Centre from 10-11:30am. Registration is required and there is a max of 10 participants. This workshop is free. A big thanks to Elliott insurance for sponsoring this workshop.
25 Days of Christmas Activities
The Department of Parks, Recreation and Culture invite you to get up and get active this holiday season!

See how many of the below activities you can do by January 1, 2021
Watch a classic Christmas Movie
Take a "what Christmas means to you" photo
Make a Christmas ornament
Make snow angels
Dance in your Christmas socks
Dress in Red and Green
Bake a Holiday treat
Shovel Snow
Have a game night
Make a candle craft
Go ice skating
Read a Christmas Story
Take photos playing in the snow
Visit the light display in Memorial Park
Write your name in the snow
Sing a Christmas Carol
Pay it forward
Read a book with Santa
Play Charades
Build a snowman
Go tobogganing
Make a gingerbread house
Catch a snowflake on your tongue
Visit a friend on face time
Do a puzzle

Don't forget to share your photos on social media!
Children's programs
Conveniently register online for our children's programs or contact our Child and Youth Program Coordinator for questions about our programs and activities.
Activities with a caregiver
Parents or guardians must actively participate in the programs listed below. All classes are six weeks in length, unless otherwise indicated.
Register for any of these programs.
Art We Messy
A hands on crafty program for toddlers and parents to enjoy! Have fun making creative masterpieces that you will remember doing together forever. Each child will be provided with their own supplies to use during the program. Physical distancing will be managed and masks are strongly recommended. Only one parent/guardian with each child.
Age: 1-3 years
Soccer Tots
A fun packed program for children to develop the skills needed to play soccer. You have to learn to kick before you can kick a winning goal! Children will learn a variety of skills and drills while developing their fine and gross motor skills. Child must be accompanied with one parent/caregiver during the program. masks must be worn into the building and participants are to maintain physical distancing. Only one parent/guardian with each child.
Age: 2-4 years
Activities without a caregiver
Parents are not required to participate in the programs listed below. All classes are six weeks in length, unless otherwise indicated.
Register for any of these programs.
Crafty Hands
Let's get creative doing crafts and art projects. Children will work on new crafts each week based on a theme. Children will need to wear a mask in the facility.
Age: 6-8 years
After School Active Kids
A fun and engaging program for children ages 9-12 to participate in Physical Activity. Children will participate in drills, skill development, agility, balance and hand eye coordination. Physical distancing will need to be maintained and masks must be worn when entering the building. Masks can be removed when participating in vigorous activity.
Age: 9-12 years
Tiny Danc'as
A fun and creative introductory class to introduce little ones to rhythm, movement and music. Skills development is based on basic ballet, tap and jazz. Routines will be developed, and weekly activities based on themes. One Parent/caregiver will be required to participate with their child(ren). Participants will need to maintain physical distancing and masks are strongly recommended.
Age: 3-5 years
Camp
The Municipality of Port Hope offers camp for children ages 4 to 12 years old. Specialty camps are also available to provide camps built to your child's interests. Day camp is offered during school holidays and throughout the summer. Visit our Day Camps page for more information and to register.
PA Day programs
We offer drop-in programs for school aged children on P.A. days. All children under the age of 9 must be accompanied by a caregiver (15 years and older). Our PA Day Craze schedule includes gym drop-in, swimming, crafts and more. For more information, visit PA Days.
HIGH FIVE® programming
The Municipality of Port Hope is a HIGH FIVE® accredited community. Our camp, program, and aquatic staff are certified in the Principles of Healthy Child Development. This allows our staff to make sure your child has the best experience possible. For more information, visit High Five Programming.
HIGH FIVE®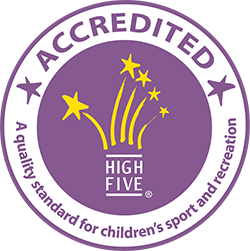 HIGH FIVE® is Canada's quality standard for children's programs and is an innovative approach to help us enhance program quality and provide positive experiences for children. HIGH FIVE® supports us with Training and Development, Program Assessments, Policies and Procedures and Awareness. HIGH FIVE® is a standard committed to assisting children along the path of healthy child development by:
Ensuring that program practitioners develop a high level of knowledge and expertise in child development;
Helping parents to make informed choices and;
Providing practitioners with the tools for enhancing and maintaining a high level of program quality.
The Municipality of Port Hope is proud to be an Accredited HIGH FIVE® organization, maintaining the highest standard in Canada
Canadian Physical Activity Guidelines
It is proven that being active helps young kids:
Develop self-confidence
Improve learning and attention
Improve movement skills
Feel happier
Children 0 to 4 Years
It is recommend by the Canadian Society for Exercise Physiology that infants (less than 1 year) should be physically active several times daily, particularly through interactive floor-based play. Examples of floor-based play include tummy time, reaching for toys, and crawling around the home. Toddlers (aged 1 to 2 years) and preschoolers (aged 3 to 4 years) should accumulate 180 minutes of physical activity at any intensity spread throughout the day. These activities include:
Activities in different environments
Activities that develop movement skills
Progression toward at least 60 minutes of energetic play by age 5 years
Children 5 to 11 Years
It is recommend by the Canadian Society for Exercise Physiology that children should accumulate at least 60 minutes of moderate to vigorous-intensity physical activity daily. This should include vigorous-intensity activities at least 3 days per week. Moderate-intensity activities include bike riding and playground activities. Vigorous-intensity activities include running and swimming.
It is also beneficial to include activities that strengthen muscle and bone at least 3 days per week.