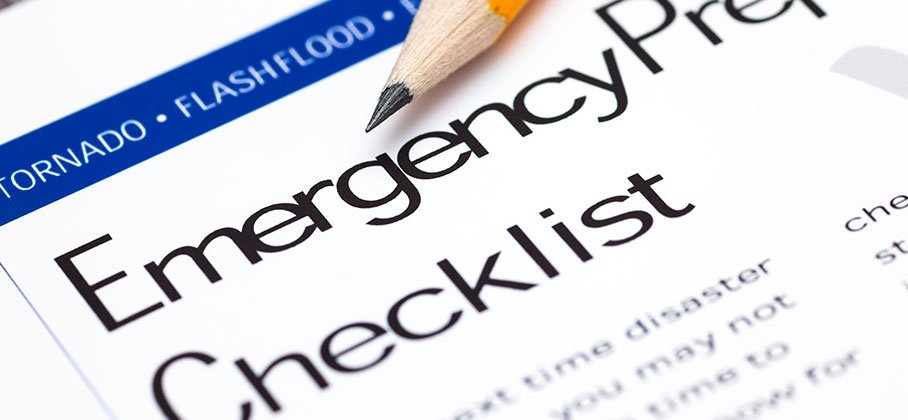 In the event of a local emergency, are you prepared? Emergencies can happen at any time and your best defense is to be prepared. Create an emergency plan, follow emergency alert systems and keep your family safe.
Be prepared to take care of yourself and your family for at least 72 hours. If a disaster happens in our community, it may take emergency workers some time to get to you as they help those in desperate need. By taking a few simple steps today, you can become better prepared to face a range of emergencies.
There are steps you can take to help you and your family prepare for an emergency:
Step 1 – Know the Risks
Find out what Ontario hazards affect our community and how you can protect yourself when disaster strikes.
Step 2 – Make a Plan
Create an Emergency Preparedness Action Plan for your household.
List the specific steps you need to take to get prepared
Provide tips on hazards that might affect your community
Include information related to special needs you may have (for example, information for people with disabilities and pet owners)
Step 3 – Prepare a Kit
Prepare an Emergency Kit of what you need at home to prepare your family for an evacuation or the first days of an emergency.
An emergency survival kit contains all the basic items, including your plan that you will need to remain comfortable for at least three days immediately after or during an emergency. You should ensure you have all your basic supplies with you.
Remember to keep your kit in an easy-to-reach location, and that everyone in your family knows where it is stored.
Remember to include items that might be required to meet any special needs of the members of your family such as infants, people with special needs and disabilities, seniors and pets.
Step 4 – Know What to Do
When an emergency occurs, stay calm. Stay at home. Listen to local radio stations or television stations for current information and instructions. Use the telephone only if there is an urgent need to. If your safety is at risk, you will be advised of the appropriate action to take.
Depending on the nature of the emergency, you may be asked to evacuate, and you will be instructed where to go for emergency shelter. Take your Emergency Kit with you.
You may be asked to Shelter in Place so it is a good idea to be familiar with the procedures for sheltering in place. If you are at home and asked to Shelter in Place, bring your emergency kit in the room with you.
During an emergency, information will be provided to you by several sources. Regular updates will be posted on the Municipal website. Typically, local radio and television stations will carry emergency bulletins. In some cases, emergency personnel may broadcast emergency instructions using police vehicles.
Tips on Preparing for a Power Outage
Preparation
Here are some suggestions to help you prepare for a power outage:
Have a plan to help you manage without power
Build or purchase a 3-day emergency kit
Invest in infrastructure such as back up generator
Ensure proper installation, testing and maintenance of smoke and carbon monoxide alarms
Sign up for e-alerts from your hydro provider as well as RAVE emergency alerts (the Municipal alerts system)
During a power outage
Here are some suggestions that may help you during a power outage:
Conserve heat in your home – limit opening the doors/windows
Conserve water, ensure you have an adequate amount of water for each person in your household for at least 3 days
Do not use your oven or propane and other fuel-fired portable heaters to heat your home. If you are without heat and operating a generator, only use approved heating devices in the manner they are intended to be used.
Stay connected with your hydro provider for up-to-date information
Charge phones at local businesses or libraries
Visit a community centre during operating hours to shower
Check on neighbours or family members
After a power outage
Here are some suggestions to help you after a power outage:
Review and improve your plan to manage future power outages
Restock supplies as required
If the situation is a major weather event, emergency information will be available on the municipal website, or sent out via emergency notification networks such as RAVE. In the event of a life-threatening situation call 911.
Tips on Preparing for Emergencies
Information for People with Disabilities
Emergency Preparedness Guide for People with Disabilities/Special Needs
Resources on Specific Emergencies
Severe Weather Links
Public Weather Warnings for Canada
Ontario's Emergency Public Warning System - Weather Radio
Ontario Ministry of Transportation Information on Road Conditions - Dial 511
Radio Stations
Television Stations