Water Tanker Shuttle Accreditation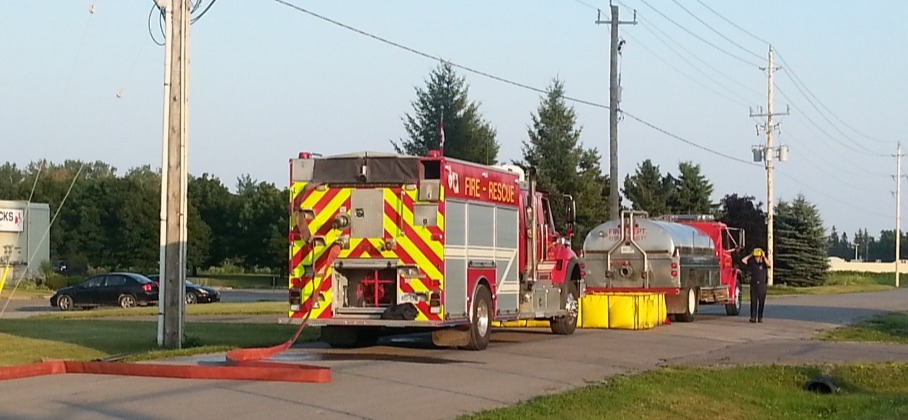 Port Hope Fire and Emergency Services has once again achieved the Fire Department Water Tanker Shuttle Accreditation, attaining an enhanced level of accreditation for Port Hope and ensuring that the Department is capable of supplying a consistent water source in the event of a fire in the rural area of the Municipality, to both residential and industrial/commercial structures.
What is water tanker shuttle accreditation?
The accreditation means that our department has the ability to fight both industrial/commercial and residential structure fires in the rural area of the Municipality more quickly and effectively, by providing a continuous flow of water to fire scenes that are further away from municipal fire protection hydrants.
Port Hope Fire and Emergency Services received its initial Basic Tanker Shuttle Accreditation for the rural area of Port Hope in the fall of 2013 by Fire Protection Survey Services. In late 2018, the Department earned a Class 8, Industrial/Commercial level of accreditation, meaning that the Department has demonstrated that it is capable of delivering 400 gallons of water per minute, continuously, for a period of two hours. According to their new certificate, the fire crews are able to supply 442 gallons per minute.
Accreditation may reduce insurance premiums
The earned accreditation provides residential homeowners within an eight-kilometre radius of both the Welcome and Garden Hill fire stations, as well as commercial property owners within a five-kilometre radius of the stations the ability to continue to receive reductions in their insurance premiums. Property owners in the rural area are known to save an average of $250 on their insurance premiums due to the accreditation. With the accreditation, a discount may be applied by participating companies to homes that qualify, but advised that not all companies offer a reduction. The general public should contact their insurance provider and make sure they're aware of the accreditation.
The new certificate for the Municipality of Port Hope will expire on December 31, 2023.