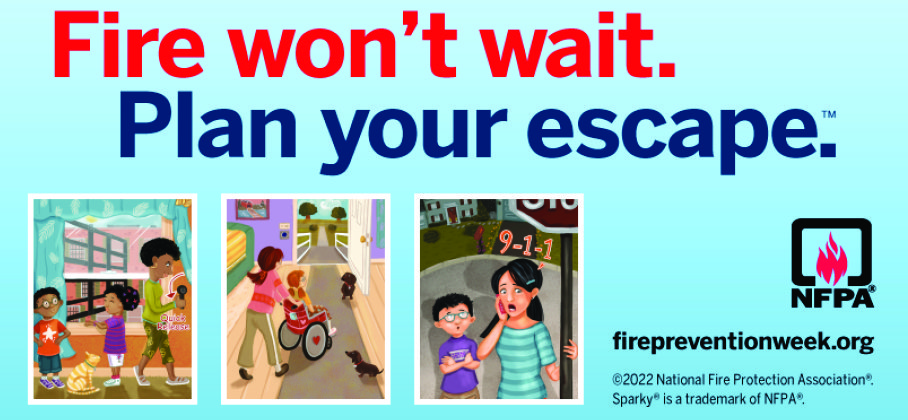 Home fire safety is an important responsibility during the winter season and throughout the year. Preparing for a potential fire with a home escape plan, and knowing what to do to prevent kitchen, electrical or heating equipment fires will help to keep you and your family safe.
Fire prevention week
The theme this year for Fire Prevention Week is "Fire won't wait. Plan your escape™".
Today's homes burn faster than in the past, creating thick, black, toxic smoke. From the time the smoke alarm sounds, you may have as little as two minutes to safely escape a fire in your home. Your ability to get out of a home during a fire depends on early warning from smoke alarms and advance planning.
Port Hope Fire and Emergency Services encourages all residents to make and practice a home fire escape plan. Everyone needs to be prepared in advance, so that they know what to do when the smoke alarm sounds.
Have a plan for everyone in the home. Children, older adults, and people with disabilities may need assistance to wake up and get out. Make sure that someone will help them.
The History Behind Fire Prevention Week
Fire Prevention Week is observed each year during the week of October 9 in commemoration of the Great Chicago Fire, which began on October 8, 1871, and caused devastating damage. This horrific conflagration killed more than 250 people, left 100,000 homeless, destroyed more than 17,400 structures, and burned more than 2,000 acres of land.
Since 1922, the National Fire Protection Association has sponsored the public observance of Fire Prevention Week. During Fire Prevention Week, children, adults, and teachers learn how to stay safe in case of a fire. Firefighters provide lifesaving public education in an effort to decrease casualties caused by fires.
Home escape plan
Working smoke alarms will let you know there is fire in your home. A home escape plan will help you and your family get out safely. Here's what to do:
Plan two ways out of every room.
Make sure windows can be easily opened.
Have one meeting place outdoors like a tree or neighbour's house.
Decide who will help young children, the elderly and physically or mentally challenged.
Call 9-1-1 once you are safely outside. Never re-enter a burning building.
Make sure family members and guests know the plan.
Practice the plan to make sure it works.
Be sure to keep all exits clear and easy to access.
Keep your wheelchair, walker, scooter, or cane by your bedside to make sure you can reach it quickly in an emergency.
If you're visually impaired, practice your escape plan with the sound of the smoke alarm. The sound can be disorienting in an emergency.
The fire services of Northumberland County created this video to help you make and practice a home escape plan. Watch to see if Sparky can outsmart his enemy, The Alarmist.
Kitchen and cooking safety tips
Unattended cooking is the leading cause of home fires. These fires can happen quickly but there are things you can do to stop it from happening in your home:
Most important – stay in the kitchen while you are cooking.
Keep cooking areas clear of combustibles such as oven mitts, towels, packaging, and curtains.
Keep children and pets away from cooking areas.
Always keep oven mitts and a proper fitting led within reach.
If a fire starts on the stove
Put on an oven mitt and carefully slide the lid over the pot or pan.
Turn off the burner when the flames are no longer coming out from the pan.
Do not move the pot.
Keep the lid on until it is completely cool.
Never pour water on a grease fire.
If a fire starts in the oven or microwave
Turn off the power and keep the door closed.
Have the oven serviced before you use it again.
If the fire does not go out...
Leave the house immediately and call the fire department emergency number.
Electrical fires
Electricity is something we use every day. It helps make our lives easier but if it is not used correctly, it can become a shock and fire hazard. There are steps you can take to reduce the hazard.
Air conditioners and other heavy appliances should be plugged directly into an outlet.
Extension cords should only be used as a temporary wiring. If permanent wiring is required, have more outlets installed by a licensed electrician.
Extension cords should not be linked together – use an extension cord that is long enough to do the job.
Check cords for damage such as fraying or nicks. A damaged cord can expose wires and result in a possible shock or fire hazard.
Avoid running cords under rugs, which can damage the cord and cause a fire.
Avoid using multi-plug adapters that can overload a circuit. If additional outlets or circuits are required, have them installed by a licensed electrician.
All outlets near water should be ground fault circuit interrupters (GFCIs). A GFCI provides split-second electrical protection.

When replacing a fuse, make sure it is the correct amperage. Substituting a higher amp fuse where a smaller one is required can pose a fire hazard.
Heating equipment fires
We all want to be warm and cozy during the colder months. The appliances that keep our homes comfortable can also be hazardous. With these simple tips, you can keep everything working safely.
Have your heating system and chimneys inspected and cleaned annually by a qualified service technician.
Make sure all outside heating vents are not blocked with things like snow, ice, or animal nests.
Woodstoves, fireplaces, and fireplace inserts need to be put in by a qualified installer. Look for someone with a WETT (Wood Energy Technical Training) certification.
Always use a fire screen around the fireplace.
Allow ashes from your woodstove or fireplace to cool before emptying them into a metal container with a tight-fitting lid. Keep the container outside.
Keep children and pets away from glass doors on a woodstove or fireplace. These doors can get very hot and cause burns if touched.
Candle safety
Candles may be pretty to look at and give off a nice scent, but they are a cause of home fires and home fire deaths. A candle with an open flame can easily ignite anything that can burn.
Think about using flameless candles in your home. They look and smell like traditional candles.
Blow out candles when leaving the room or going to sleep.
Keep lit candles at least 30 cm away from items that can catch fire.
Place candles in sturdy, burn-resistant containers that won't tip over and are big enough to collect dripping wax.
Keep lit candles away from windows, where curtains or blinds may close or blow over them.
Keep candles away from children or pets.
Do not allow older children to light candles in their bedrooms. A forgotten candle or an accident is all it takes to start a fire.
During power outages, use caution when using candles as a light source. Consider using flashlights or battery-operated candles.
Never use a candle for light when fueling equipment such as a camp fuel heater or lantern.
Keep candle wicks short at all times. Trim the wick to one-quarter inch (6.4 mm).
Be wary of buying novelty candles. Avoid candles surrounded by flammable paint, paper, dried flowers, or containers that will melt or break.
Extinguish taper and pillar candles when they burn to within two inches of the holder, and container candles before the last half-inch of wax begins to melt.
Use extreme caution when carrying a lit candle, holding it well away from your clothes and any combustibles that may be along your path. If possible, blow out the candle before moving it.
9V batteries
9-volt batteries power our smoke alarms, household items and toys. Did you know that these batteries can be a fire hazard if not stored safely or disposed of with care?
The problem
The positive and negative posts on 9-volt batteries are close together. If a metal object touches the two posts, it can cause a short circuit. This can make enough heat to start a fire.
9-volt batteries stored in a drawer should be kept away from paper clips, coins, pens, or other batteries. Do not store items such as steel wool, aluminum foil, and keys near 9-volt batteries. If these items touch the two posts, there is a risk of a fire starting.
Weak or old batteries may have enough charge to cause a fire. Some fires have started in trash when 9-volt batteries were thrown away with other metal items.
Storing 9-volt batteries
Keep batteries in original packaging until you are ready to use them. Some 9-volt batteries are now sold with a plastic protective cover on the posts.
If loose, keep the posts covered with masking, duct, or electrical tape.
Store batteries standing up.
Do not store them in containers with other batteries.
Disposal
9-volt batteries should not be thrown away with trash. They can come in contact with other batteries or pieces of metal.
9-volt batteries are household hazardous waste and can be taken to the Brighton Community Recycling Centre or the Bewdley Community Recycling Centre
Cover the positive and negative posts with masking, duct, or electrical tape before getting rid of batteries.
Smoke alarms sound an early warning in a fire. This will help you and your family to escape safely.
Find out about smoke alarm installation, maintenance, and testing in your home.
Smoke Alarms