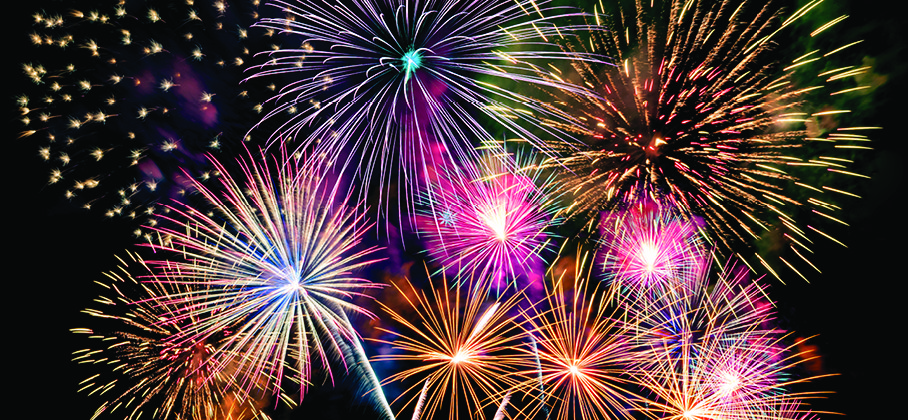 Fireworks are discharged in the Municipality of Port Hope to celebrate a variety of events. Port Hope has legislated their safe use as outlined in By-law 102-2008. The By-law states that residents may only discharge fireworks on Victoria Day and Canada Day. Anyone wishing to have an event involving fireworks beyond those dates must apply for a permit.
Discharging Fireworks
No person shall discharge consumer fireworks except between dusk and 11:00 p.m. on Victoria Day and between dusk and 11:00 p.m. on Canada Day.
A permit to display fireworks must be obtained from the Fire Chief beyond those dates.
A person eighteen (18) years of age or older may hold a display of consumer fireworks on any land belonging to him or her or on any other privately owned land where the owner thereof has given permission for such display or discharge of fireworks.
No person under the age of eighteen (18) years shall discharge any consumer fireworks except under the direct supervision of and control of a person eighteen (18) years of age or over.
No person being the parent or guardian of any person under the age of eighteen (18) years shall allow the person to discharge any consumer fireworks except when such parent or guardian or some other responsible person of eighteen (18) years of age or over is in direct supervision and control.
No person shall discharge any consumer fireworks in such a manner as might create danger or constitute a nuisance to any person or property, or do to or cause or allow any unsafe act or omission at the time and place for the discharging of any fireworks.
No person shall discharge any consumer fireworks in or into any buildings, doorway, or automobile.
No person shall discharge any consumer fireworks in or on or into any park, highway, street, lane, square or other public place, unless under a display fireworks permit to do so issued by the Fire Chief.
Fireworks Safety
To minimize the risk of fire and burn injury, Port Hope Fire and Emergency Services does not recommend family fireworks or informal neighbourhood displays.
If you still choose to have family fireworks or an informal neighbourhood display, here are some important safety tips to be followed:
Store fireworks in a cool, dry, ventilated place, out of the reach of children.
Appoint a responsible person to be in charge. Only adults who are aware of the hazards and safety precautions should handle and discharge fireworks.
Carefully read and follow the label directions on fireworks packaging.
Always keep a water hose or pail of water close by when discharging fireworks.
Discharge fireworks well away from combustible materials like buildings, trees and dry grass.
Keep onlookers a safe distance away, upwind from the area where fireworks are discharged. Check the safety instructions on the fireworks label for minimum distances from spectators.
Use a good firing container such as a pail, box or wheelbarrow filled with earth or sand.
Bury fireworks that do not have a base halfway in the container unless the label on the fireworks indicates otherwise. Set them at a 10-degree angle, pointing away from people.
Light only one firework at a time and only when they are in the container or on the ground. Always light the fuse at its tip. Never try to light a firework in your hand.
Do not try to re-light dud fireworks. For dud fireworks, it is best to wait 30 minutes and soak them in a bucket of water. Dispose of them in a metal container.
Discharge fireworks only if wind conditions do not create a safety hazard.
Keep sparklers away from children. Sparklers burn extremely hot and can ignite clothing, cause blindness and result in severe burns. As the sparkler wire remains hot for some minutes after burnout, it should be immediately soaked in water to avoid injury.
If someone gets burned, run cool water over the wound for three to five minutes and seek medical attention, if necessary.
Fireworks By-law and Permit Application
To apply to display fireworks within the Municipality, please complete the application below.
A copy of By-law 102-2008 for the Sale of Fireworks and the Setting off of Fireworks and Pyrotechnics within the Municipality of Port Hope can be obtained by contacting the Fire Administration Office.
Sale of Consumer Fireworks
The sale of consumer fireworks within the municipality must be approved by the Fire Chief.
Establishments who wish to offer fireworks for sale must complete and submit the Sale of Fireworks application online or in person at the Fire Administration Office at 245 Ontario Street.

Before applying for a permit, please make sure that your sales establishment has at least two unobstructed marked exits, that all aisles that will contain consumer fireworks are at least 1.2 m wide and that the aisles will not be blocked at either end.

When an inspection of the premises is approved, and the $100 licensing fee is paid; fireworks shall be sold ten (10) days prior to Victoria Day and ten days prior to Canada Day only.

Explosives Regulations, 2013, Part 16 has additional information regarding the sale of consumer fireworks.


For additional information, please visit the Explosive Regulations, 2013.