Landlord and Commercial Safety
Landlord Duty - Smoke and Carbon Monoxide Alarms
Landlords of residential properties have a responsibility to ensure that there are working smoke alarms and carbon monoxide (CO) alarms in all the individual suites.
Landlords must:
Install smoke and CO alarms in accordance with the Ontario Fire Code.
Maintain smoke and CO alarms in operating condition.
Maintain all power supplies to the smoke and CO alarms.
Provide the tenant a copy of the manufacturer's maintenance instructions.
Landlords are required to test smoke and CO alarms in rental units:
Annually,
When the battery is replaced,
When changes are made to the electric circuit, or
When a change of tenancy occurs.
All testing must be recorded and kept at the building for two years.
Tenants must:
Not disable the smoke or CO alarms.
Notify the landlord as soon as they are aware the smoke and/or CO alarm in the unit is disconnected, not working or not working properly.
Penalties
Penalties can be issued by the municipal Fire Prevention Officer for those landlords or tenants who do not comply with the smoke and/or carbon monoxide alarm regulations.
For Individuals:
A ticket of $235 or $360 can be issued
Upon conviction - $50,000 for first offence, $100,000 for subsequent offence and/or 1 year in jail
For Corporations:
Upon conviction - $500,000 for first offence and $1.5 million for subsequent offence.
Fire Safety Plans
The Ontario Fire Code requires certain buildings to have a Fire Safety Plan. Fire safety plans must meet the requirements of the Fire Code. This includes auditing the building, identifying fire hazards, and maintaining safety equipment. It also includes training occupants about how to respond during a fire.
You need a fire safety plan if the building is a: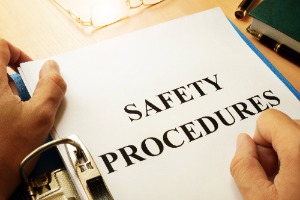 Care, assembly or detention facility
Residential building with more than 10 occupants
Business or service building with more than 300 occupants
Mercantile building with more than 300 occupants
High hazard industrial building with more than 25 occupants
Medium hazard building with more than 100 occupants
Low hazard building with more than 300 occupants
If you are unsure if your building requires a fire safety plan, or if you would like a template to help with creating a fire safety plan for your building, contact Port Hope Fire and Emergency Services at 905-753-2230.