Notice of Study Commencement - Lake Street/Waterfront Trail
Municipal Class Environmental Assessment and Detailed Design - Shoreline Erosion Protection at Lake Street / Waterfront Trail
The Study
The Municipality of Port Hope has retained the services of Planmac Engineering Inc. to undertake a Schedule 'A+' Municipal Class Environmental Assessment (EA) and Detailed Design for shoreline erosion protection approximately 25m in length. This includes a portion of the waterfront trail that runs along the top of bank between Lake Street and an eroded section of the Lake Ontario shoreline. The study area is shown on the key map below.
The Process
The section of shoreline has significantly eroded from wave action to a point that the waterfront trail is no longer safe for use. Any further erosion will result in potential impacts to Lake Street. Immediate remediation is required.
Planmac Engineering Inc. will complete the Municipal Class EA, in accordance with the Municipal Engineers Association document, "Municipal Class Environmental Assessment", October 2000, amended 2007. Consultation with external agencies, Indigenous Communities and the public is integral to the development of the detailed design.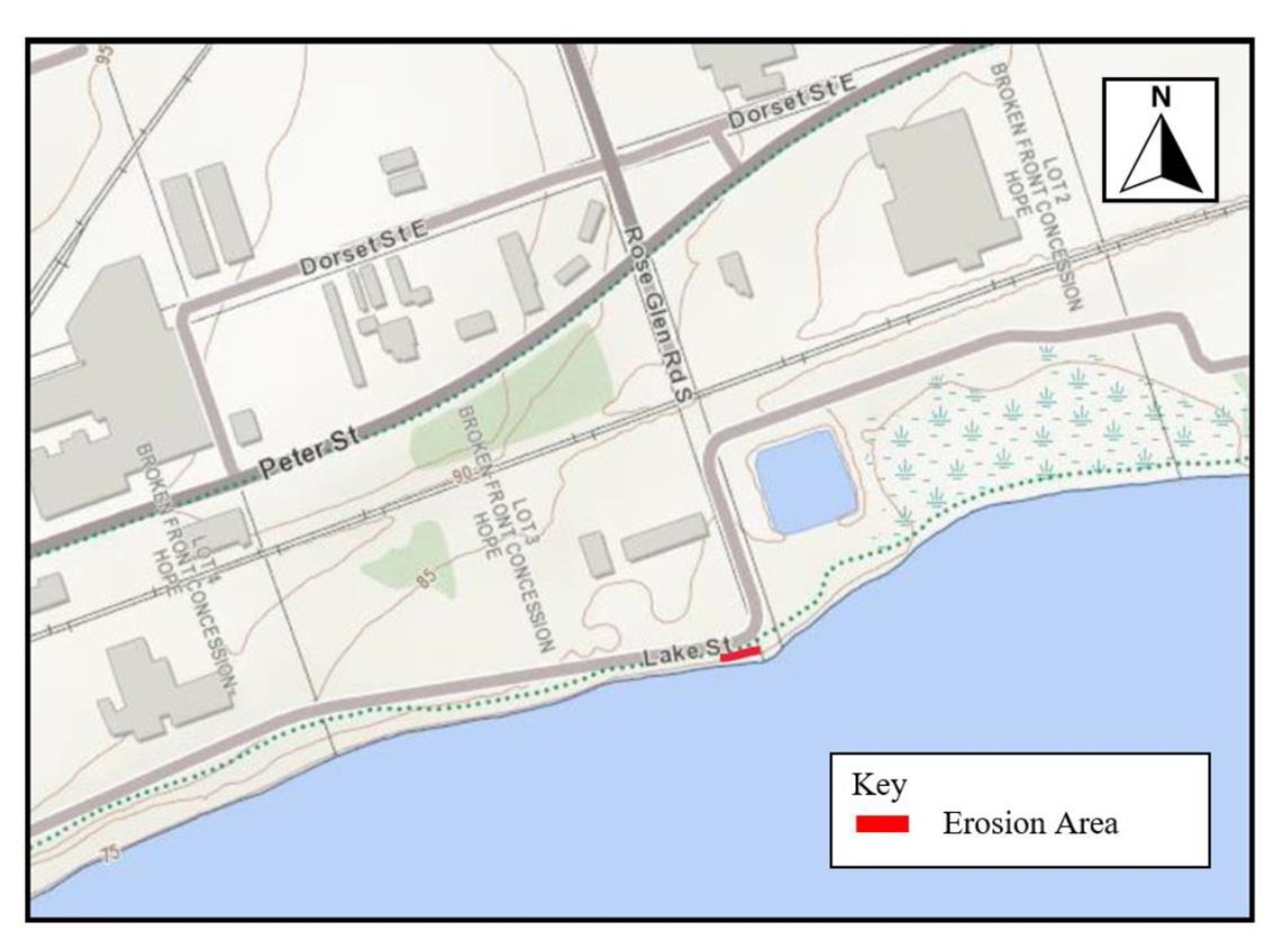 Comments and Information
If you have any comments or questions, please contact one of the Project Team members listed below:
Mike Neumann, P.Eng.
Consultant Project Manager
Planmac Engineering Inc.
80 North Queen Street, Suite 400
Toronto, ON M8Z 2C9
Phone: (905) 361-6534
Email
Warren Coulter
Engineering Project Coordinator
Municipality of Port Hope
56 Queen Street
Port Hope, ON L1A 3Z9
Phone: (905) 885-2431
Email
This notice was issued on April 6, 2022
Comments and information are being collected to assist the Municipality of Port Hope in meeting the requirements of the Ontario Environmental Assessment Act. Information will be collected in accordance with the Freedom of Information and Protection of Privacy Act and the Access to Information Act. With the exception of personal information, all comments will become part of the public record.
2022-04-06