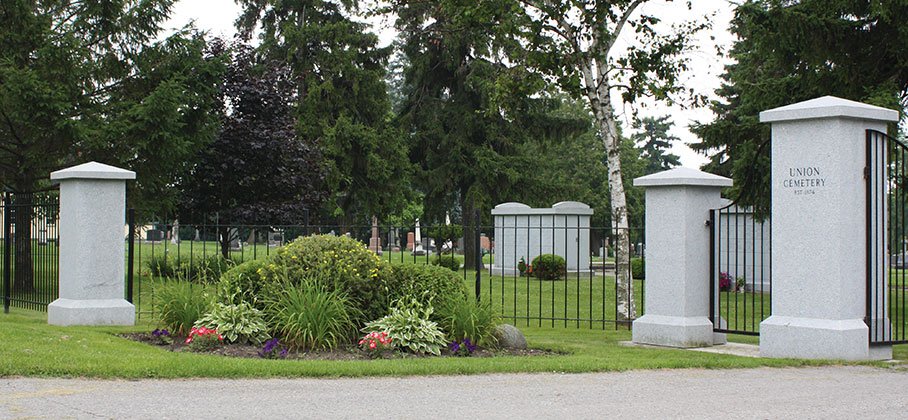 The Municipality operates and maintains 12 cemeteries. We preserve the rich, historical significance of these heritage properties, some of which date back to 1795. The Cemeteries Office location is Union Cemetery, 114 Toronto Road.
Union Cemetery (1874)
Welcome Cemetery (1855)
St. John's Anglican (1862)
Old Presbyterian Pioneer (1827)
Elizabethville Anglican (1855)
Elizabethville Methodist (1869)
Knoxville Presbyterian (1859)
Perrytown Bible Christian (1843)
Perrytown Presbyterian (1838)
Providence Bible Christian (1843)
East Zion Bible Christian (1833)
Zion United Church Cemetery (1839)
Hours of operation
All cemeteries are open to the public from 8:00 a.m. until dusk, daily.
Burials take place:
Burials are permitted to take place at our four operating cemeteries:
Providence
St. John's
Union
Welcome
Knoxville
All other cemeteries are inactive and burials are no longer permitted at these locations.
Visiting regulations and etiquette
We ask our visitors to respect the dignity and integrity of the cemeteries, and the rights of other visitors.
Visitors shall not disturb the quiet by creating noise or acting inappropriately.
The speed limit within the cemeteries is 10 km/hr.
Artificial flowers must be placed in a metal or plastic container, or they will be removed.
No glass containers are allowed at the grave site.
All artificial flowers are allowed from October 15 to April 1. Potted plants are permitted year-round but must be in approved flower stands.
Lot, plot, or niche options
You can purchase lots, plots, and niches to suit your family's needs. Our knowledgeable and compassionate staff can help you throughout the planning process and answer any questions you may have.
Fees and contact information
Please contact cemetery staff for more information at 905-885-5459 or by email.
Cemetery Office Location:
114 Toronto Road
Port Hope, ON L1A 3S5
Cemetery By-law
For a copy of By-law 26/2021 being a By-law to Establish and Adopt Rules and Regulations Governing the Port Hope Cemetery Board in Accordance with the Funeral, Burial and Cremation Services Act and Applicable Regulations please call 905-885-4544 or email us.
COVID-19 - Important Notice:
Precautions are in place to help prevent the spread of COVID-19
Service information on some pages may not be accurate during this time. Please refer to our COVID-19 Updates page for service changes.