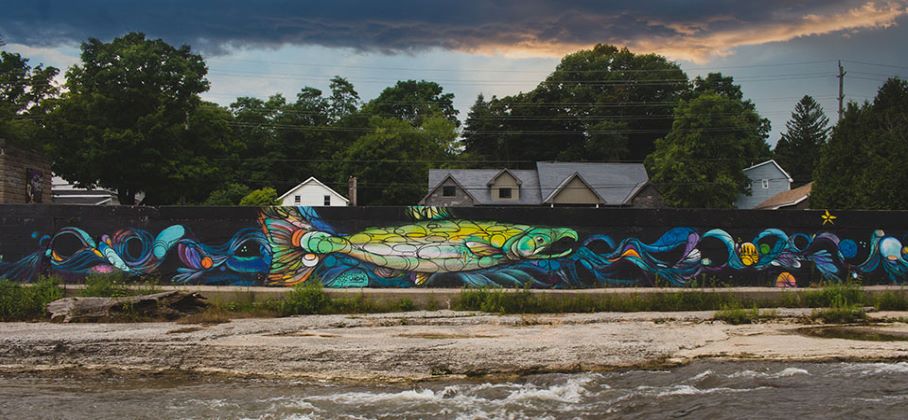 The Municipality of Port Hope offers a variety of public art pieces as well as art and cultural programs and events. These programs and events contribute to the unique character of the community. Our commitment to arts, heritage, and culture is part of our long-term vitality and growth plan.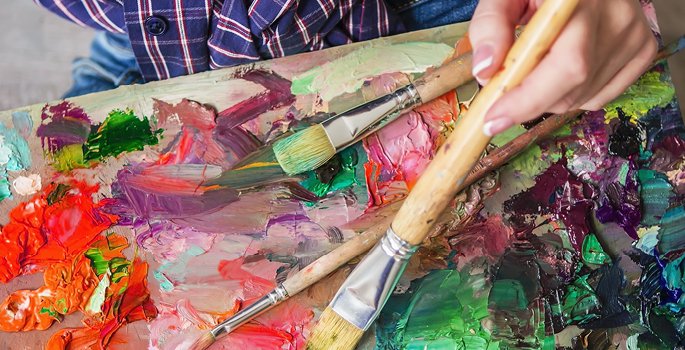 Arts and Culture Programming
We offer a variety of arts and culture programs throughout the year.
Art and Culture Programs
We offer a variety of arts and culture programs throughout the year. Please check this page on a regular basis to see what is new or up and coming.
Acrylic Painting
Participants will be introduced to basic acrylic painting skills through a series of projects relating to art concepts and techniques. This is a class for beginners and those who want to come together to paint, refresh skills and/or learn new techniques. Participants will be required to purchase their own supplies.
Winter 1 Session
The Winter 1 session runs from November 21, 2022 to February 12, 2022
No class Nov 24, Dec 29 and Jan 5
Day: Thursdays
Time: 1:00 p.m. to 2:30 p.m.
Fee: Adult $115.24, Senior $79.53 (HST included)
Location: Town Park Recreation Centre
What's your say on Culture in Port Hope?
In 2012, the Municipality of Port Hope created a Cultural Plan. This dense, lengthy document was written to help build and support the facets of our community that contribute to our rich, unique local culture. The Cultural Plan contains identified needs, strategies, and goals that span 20 years - from 2012 to 2032 - and this year marks the halfway point. It's time for a pulse-check!
A community feedback project has been created to help the Municipality tune into our current cultural landscape. We're calling it Collaborating on Culture - Propelling the Plan, and we want to hear what you have to say!
To learn more and get involved, visit our My Port Hope page.

Our arts community is vibrant: Discover these public art spaces

Public art adds an enormous value to the cultural, aesthetic, and economic vitality of any community. It contributes to our identity, fosters a sense of community pride and belonging, and enhances the quality of life for residents and visitors.
The Municipality of Port Hope implemented a Permanent Public Art Policy in 2013 to guide the placement of permanent public art in areas that are freely accessible to the public and provided the greatest opportunity for interaction, and that the creative concepts are primarily - but not limited to - local artists.
The Salmon Mural

In September of 2018, Metis mural artist Mique Michelle travelled to the Municipality of Port Hope to participate in Cultivate Festival however arrived a couple days early. With supplies on hand and the perfect canvas on the west wall of the Ganaraska River awaiting, she created a 50-foot wild salmon. The mural, gifted to the Municipality with the intentions to be a temporary piece, was promptly approved as permanent public art, to remain indefinitely in the heart of Port Hope. The salmon mural highlights art and culture activities that take place in our community and reflects the heritage of the salmon migration.
Meet the Maker
Mique Michelle is a Franco-Ontarian from Field, Mique's nomadic journeys allowed her to exercise her graffiti from northern Ontario to France. Through her travels and studies at the Ottawa School of Art, she has evolved as a mixed media artist and an active facilitator of the arts in Ottawa. Her work can be seen in galleries, public buildings and in outdoor venues. Mique remains a strong advocate for abolishing negative perceptions of graffiti.
For more information, visit Mique Michelle's website.
Salmo Salar: The Once and Future Fish

This participatory art project for Critical Mass Art, "Salmo Salar: The Once and Future Fish," hundreds of fish were created through a series of community and school workshops, to give visual representation to the power of collaboration. School children and the community took part in a multistage process of building colour and pattern on reclaimed sailcloth one layer at a time, exemplifying how small individual contributions can become part of a greater whole, while sparking conversations about sustainability and caring for the environment.
The Salmo Salar installation was suspended over Lent Lane initially, then migrated to its permanent location above the therapy pool at the Port Hope Jack Burger Sports Complex.
Meet the Makers

Critical Mass is a Port Hope-based not-for-profit art organization, led by a volunteer group of curators, artists and art supporters dedicated to bringing contemporary art experiences to the community we live in. For more information on this organization visit the Critical Mass website.
Vivian Wong is a Toronto-based artist, arts educator and workshop facilitator. In her public art practice, she focuses on process and engagement through participatory art, using sustainable and upcycled materials and a mix of found and natural objects. She has animated spaces like Nuit Blanche Toronto, Evergreen Brick Works, and the Gardiner Museum with interactive and ephemeral installations and community art. Vivian's work frequently explores the intersections of contemporary art, urbanism, and nature.
In Vivian's work, familiar and whimsical visual tropes form the basis of accessible, relatable, uplifting art with an emphasis on process and community engagement -- it's art for everyone.
For more information, visit Vivian Wong's Instagram account.
Rock Garden at Peace Park

This community project lives in Peace Park along the Cochingomink section of the Ganaraska Trail. Installed in 2018, in partnership with artistic lead Lee Higginson of Fluke Craft, the Rock Garden became permanent public art, an entirely positive project meant to inspire, uplift, and engage the community. All are invited to paint a rock with a positive message or image of love and hope and display it in the Rock Garden.
The Garden is a take one / leave one garden and creations may travel.
Meet the Maker
Fluke Craft was formed in 2017 by Port Hoper Lee Higginson. Visit Lee Higginson's Instagram and Facebook account. The heart and essence of Fluke Craft is to celebrate art, community and connection. Fluke Craft believes that the process of creation is every bit as important as the final product. Art isn't hard... it's everywhere! And, every person has an equal right to enjoy, contribute and participate within it. Using unique, natural and salvaged materials is a core part of Fluke Craft. Anything can become art! Fluke Craft's mission is to make art fun, healing, and joyful.
Sports Day Mural

The artist inspiration and motivation for this project is the desire to give back to the community through celebrating art, culture, and sports. The 'Sports Day' Mural, completed in 2016, is located on the north wall of the Town Park Recreation Centre. Artist Herb Jung is a great believer in the positive impact of recreation opportunities in Port Hope. His caring nature led him to paint this mural to support children and families, hoping to raise some money on an annual basis that goes toward the subsidy program offered by the Municipality. The sponsorship aligned with this mural help support program registration subsidies in our community.
Meet the Maker
Herb Jung is a Port Hope resident and a graduate of the Ontario College of Art and Design. Herb has served as an educator in the Sheridan College of Fine Art Department and Toronto Board of Education leading after school art programs for children, youth, and adults.
Redevelopment Mural

The Town Park Recreation Centre Redevelopment Mural was created in 2002 to recognize donors that contributed to the redevelopment of the centre. The sports in the mural represent the many ways the centre can be used by the community to engage in sports and recreation. The Town Park Recreation Centre has a large outdoor recreation space and gymnasium that allows for a variety of sports to be played. Each grass blade in the mural represents the generous contributions of the donors. This mural is inside the Town Park Recreation Centre on the east wall just outside the gymnasium.
Meet the Maker
Oliver Studios created this mural in 2002 as a way to recognize the contributions of the community to the fundraising campaign for the re-development of the Town Park and construction of the Town Park Recreation Centre.
Iron Sculptures on the Ganaraska River

Social Media Callout! Residents are invited to use the hashtag #porthopeontario when visiting these sculptures.
Two metal sculptures were installed along the Ganaraska River in the summer of 2019. Located near Rotary Park along the Ganaraska River, and at the Fish Ladder at Corbett's Dam. The sculptures are taken down in the winter and set up indoors before being reinstalled in Spring.
Meet the Makers
Rok Capuder created the artwork along the Ganaraska River. Rok is a local Port Hope blacksmith, carpenter, musician, and metal artist, originally from Slovenia.
Marko Lipovsek is a musician, luthier, carpenter, sculptor, and metal artist who created the artwork located at Corbett's Dam.
Coho Homecoming

In June 2022, 'Coho Homecoming' was unveiled at it's permanent home inside the Jack Burger Sports Complex. This incredible rendition, a modern piece of art featuring the Coho Salmon, references the Michi Saagiig people lining one of the waterfalls spilling down over the rocky ledges of the Ganaraska River. Today, fishermen and sightseers still revel at the miraculous annual return of the salmon to this storied river. 'Coho Homecoming' is featured on the cover of the Port Hope Local Experience Guide 2022.
Meet the Maker
Rick Beaver is an artist, wildlife biologist, and member of Alderville First Nation. He has been painting and exhibiting internationally for more than 30 years, working mainly with acrylic and gouache. He fuses his passions for art and science to honour and protect the earth. The inspiration for Rick's artwork continues to be the Rice Lake Area and Alderville. Visit Rick Beaver's webpage.
HIGH FIVE® accredited
We are an accredited HIGH FIVE® organization, maintaining the highest standard in Canada
What is HIGH FIVE?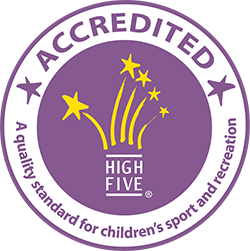 HIGH FIVE® is Canada's quality standard for children's programs and is an innovative approach to help us enhance program quality and provide positive experiences for children. HIGH FIVE® supports us with Training and Development, Program Assessments, Policies and Procedures and Awareness. HIGH FIVE® is a standard committed to assisting children along the path of healthy child development by:
Ensuring that program practitioners develop a high level of knowledge and expertise in child development;
Helping parents to make informed choices and;
Providing practitioners with the tools for enhancing and maintaining a high level of program quality.
Youth Friendly Community
We are recognized as a Youth Friendly community.
What makes a Youth Friendly Community?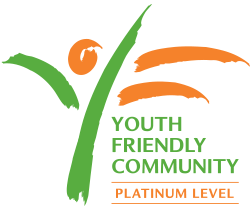 The Youth Friendly Communities recognition award is a program of Play Works, an Ontario partnership for youth. The program outlines criteria for communities to support engaged youth and highlights the investments the community makes to youth play. Promising practices for youth engagement are highlighted and celebrated. The award recognition is a community collaboration and involves youth to complete the submission. The Municipality has been recognized as a Platinum Youth Friendly Community since 2008.
Age-Friendly Community
We are recognized as an Age Friendly community.
What makes a community Age-Friendly?
An age-friendly community (AFC) is a community where policies, services and physical spaces are designed to enable people of all ages to live in secure and accessible physical and social environments. AFCs contribute to good health and allow people to participate fully in society throughout their lifetime. The World Health Organization's (WHO) Age-Friendly Cities project developed eight domains of AFCs. These domains outline the physical and social aspects of communities that contribute to independent and active aging.

The Municipality of Port Hope is recognized as an Age-Friendly Community through the World Health Organization, and was Awarded the Ontario Age-Friendly Recognition Award in 2018 through the Ministry of Seniors Affairs.