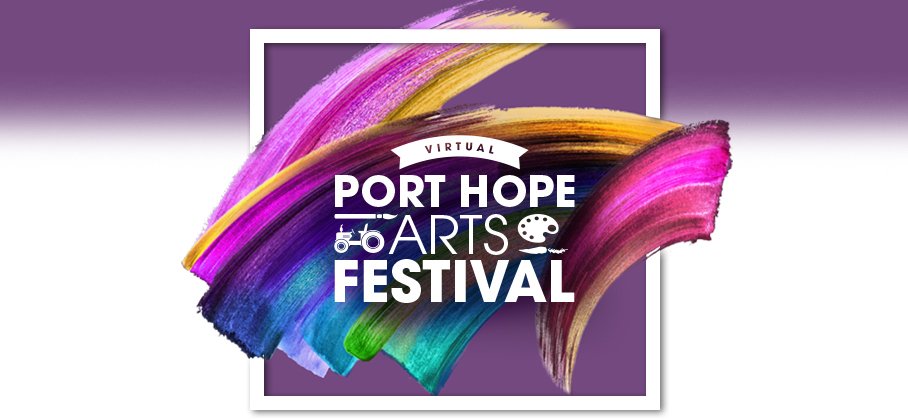 The Municipality of Port Hope is celebrating the Arts Festival virtually and around town this August.
In accordance with COVID-19 public health guidelines, the Festival in the Park has been cancelled.
August is Arts Month in Port Hope
The Port Hope Arts Festival is traditionally a one day celebration in downtown Port Hope. For 2021, we are celebrating the arts all month long.
Enjoy arts and culture experiences both online and around town. We hope you discover new artists, bring home new pieces and find inspiration to get creative and show your own work! Now is the time.

Art Around Town
The work of 18 artists will be displayed in various shop windows downtown from August 1 to 12. Then all together, representing all the colours of the rainbow from August 14 to 21 at Ganaraska Art and Framing. It's worth a double take!
Art Around Town details + locations
The Rainbow Art project for this year's Art around Town initiative is the brainchild of local artists Herb Jung and Keira Lannon. Together, they helped recruit the participation of 18 artists and local businesses to display the original art.
View all locations, participating artist profiles and price list on our Festival Map (yellow icons).
Art Around Town locations (August 1 to 12):
Rainbow Exhibition (August 14 to 28):
The original art pieces on display are also for sale!
Part of the proceeds of the Rainbow Art will be donated to the PWA Toronto. All sales will be handled through Ganaraksa Art and Framing, or by contacting each artist directly. View our map for contact details.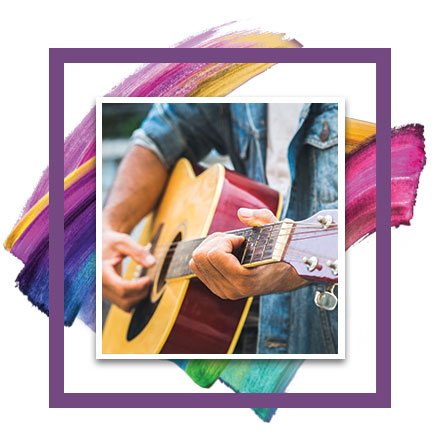 Music Around Town
Live music is an integral part of the annual Arts Festival experience. Instead of a concert from our historic bandshell this year, we are working with local restaurants to present music around town throughout the month.
Music Around Town details + locations
Below is a listing of locations offering live music throughout the month of August.
Check back often, as this listing will be updated as gigs are confirmed.
Reservations are recommended.
Shop the Market
Shopping the market is a favourite component of our annual Arts Festival experience. This year, we present three shopping options for you to explore.
---
Virtual Vendor Market
The annual artisan marketplace has gone virtual for 2021. Check out the vendor map below to discover original work from the diverse set of participating makers and artists. Customers are encouraged to contact artists directly to arrange for purchase pick up or delivery.


Click the view larger map box (top right) for full map functionality and menu options.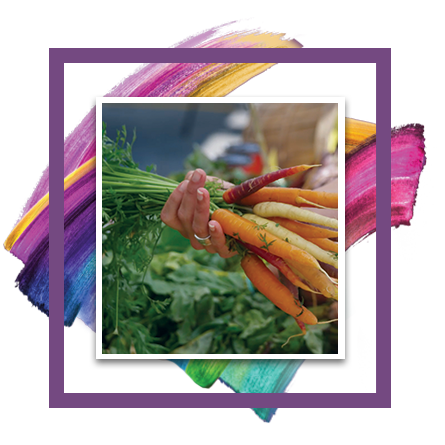 Shop the Farmers' Market
The Port Hope Farmers' Market is running on Saturday mornings (8:00 a.m. until 1:00 p.m.) at 56 Queen Street AND Wednesday afternoons (1:00 p.m. until 5:00 p.m.) at 177 Toronto Road. Visit these open-air markets to find the freshest locally grown vegetables, baked goods, preserves and more. Please practice physical distancing and enjoy the sights and sounds of outdoor shopping.
---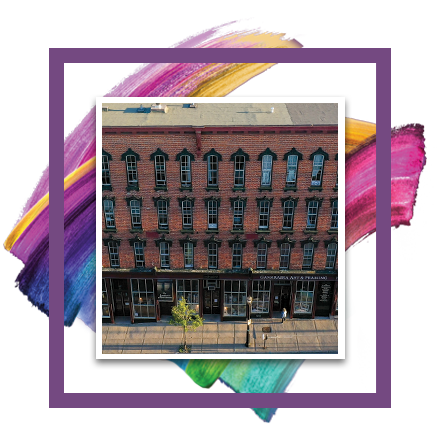 Shop the Port Hope merchants
Port Hope merchants offer distinction and diversity. Shop local to find items ranging from the rare and curious, to the practical and pretty. Check out our Locals Support Local campaign to plan your route! Please remember your mask when entering commercial establishments.
Discover the arts
Presenting videos featuring local artists offering a quick creative tip for painting, plating and photography. Uncover the artist within and start exercising your creativity today.
More local art, culture and public spaces to explore
We may have modified our annual Arts Festival format, but we are celebrating our traditional event
date with some in-person programing outdoors. On August 14 visit the downtown for play readings,
carriage rides, freezies and painted sidewalks!
To find more local events and art programs this August check out the Port Hope calendar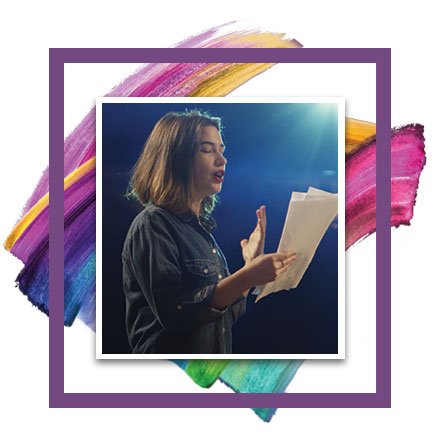 Ten minute plays
On August 14, enjoy four ten-minute plays, staged in different outdoors spots downtown.
Play details + locations
As part of the 2021 Port Hope Arts Festival on August 14, enjoy four ten minute plays, staged in different outdoors spots around the downtown.
Drama, comedy, even a little Harlequin-style romance – and it's all free! And there's a bonus play reading at Furby's
It's a unique chance to meet one of the warmest and most charming people in the business!
View our festival map (green icons) to find locations.
COVID-safe protocols will be in place at each location.
Serving Elizabeth
by Marcia Johnson
Location: The Little Station balcony (Lent Lane)
Times: 11:00 a.m., Noon and 1:00 p.m.
Did you watch The Crown? Playwright Marcia Johnson did. She noticed something about the episode where Queen Elizabeth was in Kenya: the servants didn't have speaking roles. And that gave Marcia an idea for a play…
Serving Elizabeth is an imaginative look at what the people serving the Queen were thinking – and saying during that pivotal trip to Kenya in 1952.
As the jewel in the Ten Minute Play series crown, get a ten minute preview of this new play by Johnson. The next stop for Serving Elizabeth is the Stratford Festival in September – but you can get a royal taste of it first, here in Port Hope!
Actors: Marcia Johnson, Tristan Claxton and JD Leslie
Go Fish
by Sean Carthew
Location: Rotary Park (the big rock near the footbridge)
Times: 11:00 a.m., Noon, 1:00 p.m. and 2:00 p.m.
Port Hope's favourite writer, actor, impresario and bon vivant has written a surprising play about two beings who meet by chance on the Ganaraska.
Go Fish is a story about sacrifice, parenthood and the possibility of love between a male and female. It's an enchanting encounter that you will enjoy – no matter what species you are!
Actors: Alyssa Warmland and Julian Warmland
Valse Sentimentale
by Wyatt Lamoureux
Location: Lent Lane (north end)
Times: 11:30 a.m., 12:30 p.m., 1:30 p.m., 2:30 p.m.
They both want to occupy the same space at the same time on a busy city alley. So an old, raggedy busker and a faded doyenne must find a way to co-exist despite the clash of classes. And Destiny has a dance for them!
Peterborough playwright/actor Wyatt Lamoureux's touching drama premiered to great acclaim at the 2019 Newmarket National Ten Minute Festival.
Actors: Ken Bolton, Susan Gontier and Kat Kendrick (on piano)
Really True Romance
by Dave Carley
Location: Rotary Park (just south of the Library, 31 Queen Street)
Times: 11:30 a.m. 12:30 p.m., 1:30 p.m. and 2:30 p.m.
There's a new book on loan at the library: 'Passion in Port Hope'. But be careful if you decide to check it out; you may get a visit from a Harlequin hero. And if you're a young single Mom like Erin, you may have an entirely different fantasy in mind than the one the Harlequin hunk has on offer! Find out if 'passion in Port Hope' is a contradiction in terms with this new short comedy.
With: JD Leslie, Tristan Claxton and Scott Baker
Meet Marcia Johnson
Meet Playwright Marcia Johnson
Location: Furby House Books
Time: 3:00 p.m.
Enjoy at unique chance to meet Marcia Johnson, author of Serving Elizabeth.
Marcia will be reading from her work and talking about her hit play, which is being produced at the Stratford Festival in September and then at the Thousand Islands Playhouse in Gananoque.
She will talk about writing and performing in her own work – and what it's like to make a living in Canadian theatre.
Sponsored by the Playwrights Guild of Canada, PlayConnect.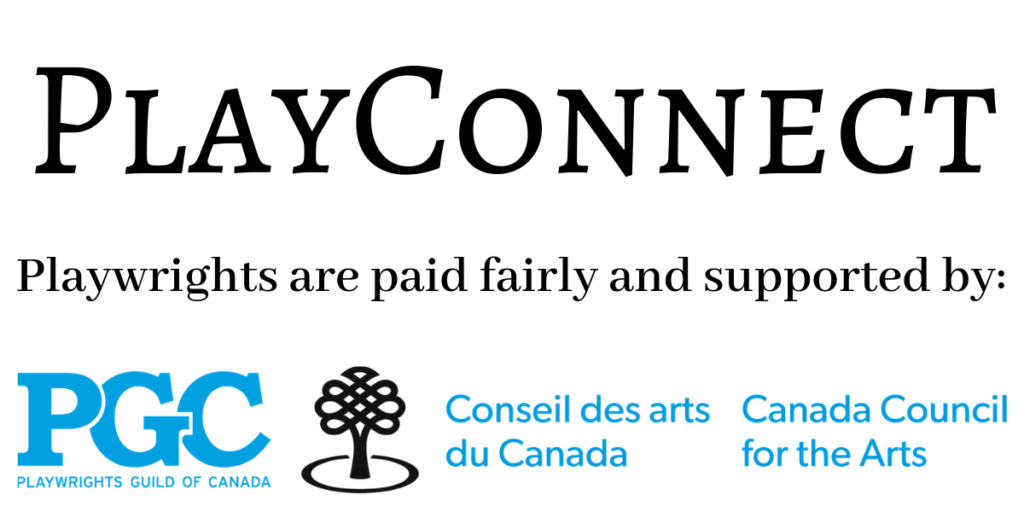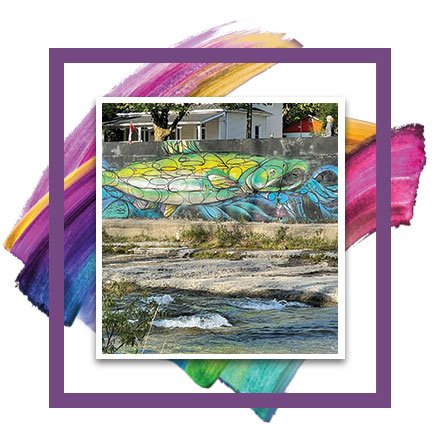 Public art spaces
Scattered throughout Port Hope are an assortment of public art pieces. Can you find them all?
Find public art
Check out the map of public art and mural locations throughout Port Hope.
The map also includes a selection of art galleries. So much to discover!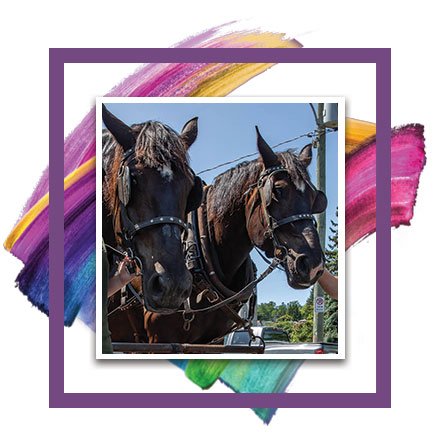 Carriage rides
Visit our beautiful downtown and take a free horse-drawn ride on August 14.
Carriage ride details
Take a ride on a horse-drawn carriage throughout the downtown on August 14!
The rides are being provided by Lunn's Horse and Carriage Service on Saturday, August 14 from 11:00 a.m. until 2:00 p.m.
The pick up location is Rotary Park, on Queen Street, right across the road from Memorial Park.
COVID-safe protocols are in place, limiting riders to the same family or social bubble; the carriage can hold up to 4 people at a time. Riders are encouraged to wear a mask (or face-covering) while waiting to board and while on carriage. Please practice patience and safe physical distancing while in the line up. One member from each family must sign-in before boarding; hand sanitizer will be made available.
The free rides are sponsored by Sheila Drew, Sales Representative ReMax Lakeshore Realty Inc. Brokerage.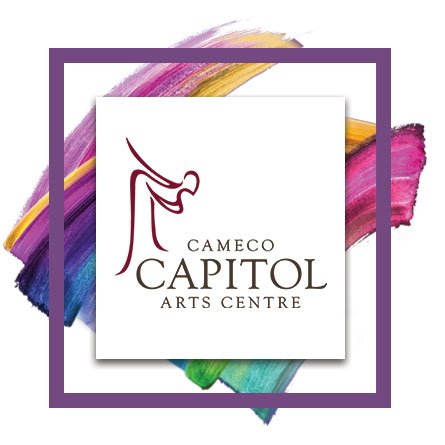 Capitol Arts Centre
A cultural cornerstone presenting atmospheric experiences since 1930.
Capitol Theatre details
This summer, the Capitol is offering a youth camp (ages 12 to 18), an outdoor street-concert series called Under the Marquee and are preparing for the return to indoor entertainment.
Join their mailing list, or follow along on social media so you don't miss an opportunity to be dazzled.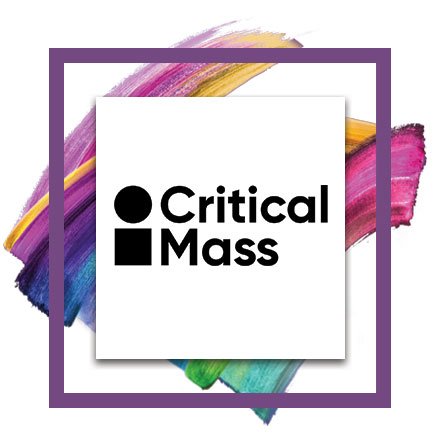 Critical Mass Art
Creating inclusive and engaging contemporary art experiences in Port Hope since 2012.
Critical Mass Art details
Critical Mass: A Centre for Contemporary Art is a not-for-profit arts organization, led by a volunteer group of curators, artists and art supporters dedicated to bringing contemporary art experiences to Port Hope.

They believe that active participation in the arts will help redefine and shape the cultural vibrancy of the community, and have a positive impact on our collective health & well-being.

Become a member, or follow along on social media to stay up to date on all the summer exhibitions, artist talks and opportunities for public participation.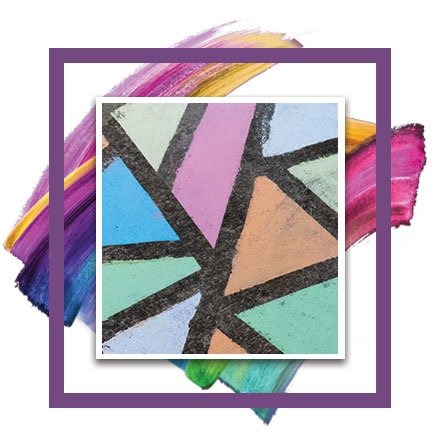 Chalk art
Watch for colourful chalk designs downtown and around town on August 14.
Sidewalk chalk recipe
As part of this year's Arts Festival experience, we invite you to break out the sidewalk chalk.
A creative and colourful activity, sidewalk chalking is an interactive way to brighten our streetscapes.
Share photos of your designs on social media with the hashtags #porthope and #phaf.
Watch for colourful chalk designs on the sidewalk downtown and around town on August 14 (or until it rains!). Give our friendly Parks staff a big hello, should you see them out and about.
Don't have sidewalk chalk? Try these recipes to make some chalk paint at home:
Sidewalk Chalk Paint
• 1/2 cup cornstarch
• 1/2 cup water
• food colouring
Directions: mix equal parts cornstarch with water and add food colouring. Apply to sidewalk and let dry.

Puffy Sidewalk Chalk Paint
• 1 cup flour
• 1 cup water
• 1/2 cup shaving cream
• food colouring
Directions: Mix flour and water together. Add food colouring and shaving cream to combine. Pour into squeeze bottles for easy application to sidewalk.
Did you know the Port Hope Arts Festival has been running for 18 consecutive years? Check out more fun ways to engage with the arts and the Port Hope community below.
August is Arts Month
This year, to help expand and extend the Port Hope Arts Festival experience, we are inviting organizations and individuals to help us celebrate August as Arts Month.
Our vision is to encourage an organic community celebration of the arts by extending an open invitation to get creative and curious.
Arts Month, we hope, will be a serendipitous celebration, during which we'd like to empower residents, organizations and businesses to present activities, digital content or displays that engage folks in experiences that educate, inspire and connect us to a variety of artistic mediums. Ultimately, the goal is to have some creative, community fun.
Participation could be private, and may include reaching out to a local artist to tell them they rock, purchasing a new art piece, trying your hand at or experiencing a new art form. Participation could also be more public, like hosting a workshop, sharing a work-in-progress or tips online.
If you'd like to join the Arts Month momentum, there are no rules for participation (other than minding all public health guidelines) and there is no sign-up process. If you want to tag the Municipality of Port Hope in social posts, we will do our best to share some content on our channels. Try posting content to hashtags #porthope and #phaf to see who else is dabbling in the arts.
Our goal with Arts Month is to inspire each other to be creative this summer, share our work and our discoveries and celebrate the arts throughout the Port Hope community.
Free freezies
Swing by Lent Lane for a cold treat on August 14 from 11:00 a.m. until 4:00 p.m. Members of the FBC Port Hope congregation will be hanging out in Lent Lane handing out free feezies.
Please note, COVID-safe protocols are in place: please wear a mask (or face-covering) and practice patience and safe physical distancing while in the line up. Hand sanitizer will be made available.
Stay safe, and stay cool!
Recommended reading
Our friends at Furby House Books have prepared a list of recommended summer reading - check it out below.
The list indicates nationally published authors and illustrators living in Port Hope!
Kurt Palka
Book: Clara
Clara Herzog is a privileged, intelligent, and thoughtful young woman whose world is changed forever when 1930s Vienna is swept up by the dark prelude of the Second World War. The cavalry officer she married in spite of her family's objections is soon called away to the thick of the conflict, and it falls to Clara, as to so many mothers, wives, sisters, and sweethearts through the centuries, to stay at home to provide and protect.
Through the war, its aftermath, and into the present, Clara must make choices and take risks that are as heroic and life-altering as any that men make in battle. She is an unforgettable character, and this is an unforgettable novel about family bonds and women's deep friendships, about courage and the love that can endure even in unimaginable times.
Wade Rowland
Book: Galileo's Mistake: The Archaeology of a Myth: Why Science Rules and Why It Shouldn't
Veteran literary journalist Wade Rowland takes one of the modern world's most influential myths - the epic confrontation of physicist and astronomer Galileo Galilei (1564 - 1642)with the Church of Rome - and turns it on its head. Rowland argues that at the dawning of the Scientific Revolution in the early 1600s, Galileo's mistake was to insist that science provides truth about nature. The Church fought back against this challenge to its authority by declaring that science provides only models for reality and that the ultimate truth is accessible only through metaphysical or spiritual insight. Although the 1633 trial centred on Galileo's telescopic observations of the night sky, Rowland argues persuasively that this was merely the public face put on a much more profound issue: what is truth and how can we know it? Galileo's ultimate recantation, Rowland argues, must be understood in this light.
Couched in the engaging style of travel narrative, this provocative reexamination deconstructs the myth that Galileo was a freethinker waging war against reactionary and anti-intellectual Church. Using the Socratic method of examining arguments, "Galileo's Mistake" moves seamlessly through Galileo's life and his ideas about the nature of reality. By no means an apologist for the Church, Rowland skillfully and persuasively identifies the source of the ontological crisis that plagues us today: the unquestioned authority of science in determining the nature of reality.
Alice Munro
Book: Hateship, Friendship, Courtship
In this superb collection from one of our finest writers, nine stories draw us immediately into that special place known as Alice Munro territory—a place where an unexpected twist of events or a suddenly recaptured memory can trace the arc of an entire life. Hateship, Friendship, Courtship, Loveship, Marriage provides the deep pleasures and rewards that Alice Munro's large and ever-growing audience has come to expect.
Heather Chisvin
Book: A Fist Around The Heart
The mystery surrounding Anna Grieve and her mentally fragile older sister, Esther, begins in Russia in the 1880s. The persecution of Jews has become so vicious that the girls' mother decides to send her children to Winnipeg with her wealthy employers. Her intention is to join them, but the sisters never see their parents again. Frightened and cut adrift, each girl reacts differently to her new family in North America. Esther's beauty and glamorous lifestyle hide the fact that she is losing herself to mental illness brought on by a trauma during her childhood in Russia. Anna does not understand the depth of her sister's torment, and spends her life torn between taking care of her and escaping her. As soon as she can, Anna leaves for New York and makes a new life as a women's rights activist with an illegal contraceptive business in Manhattan.
When Anna receives the unexpected news of Esther's apparent suicide on If Day in Winnipeg - the day a simulated Nazi attack took place to raise money for war bonds - she returns to the city to face the possibility that If Day and Esther's early trauma are inexorably linked to her death.
Ted Staunton
Book: The Good Fight
It's Toronto in the 1930s. The city is small, often xenophobic, and the summer is stiflingly hot. Everyone flocks to the lakeshore. In one area of the beach, a neighbourhood protective association has formed to keep out "undesirables," and members patrol wearing silver swastika pins. Meanwhile, the police chief believes the immigrant Jewish community is at the root of a communist threat, as the world witnesses an alarming rise of anti-Semitism overseas.
Sid and his Pop live at the edge of the Ward, Toronto's immigrant slum, where they have rented a room from the Vendetellis since Sid's mom and baby sister died from influenza. Times are tough, and Sid faces impossible choices as he wrestles with honesty, bigotry, poverty, and expectations as a member of a "whiz mob," slang for a gang of pickpockets.
But when Sid and his friends get coerced into working for the police after they're caught lifting a wallet at a baseball game, they become caught up in something much bigger than themselves, and must decide how far they will go to do what's right and to protect those they love. The story climaxes at the infamous Christie Pits Riot, Canada's largest race riot and a historic event that was a symbolic victory for Jewish and immigrant citizens
With extraordinarily cinematic artwork that immediately transports readers to the Toronto of 1933, this incredible graphic novel shines a striking lens on many contemporary issues: the immigrant experience, the roots of prejudice, and taking a stand against injustice.
Brenda Clark (Illustrator)
Book: Franklin In The Dark
This larger-format special collectible edition of the first Franklin book celebrates the 25th anniversary of the world's most beloved turtle. Includes never-before-seen archival material and personal letters from the author and illustrator that offers a fun behind-the-scenes peek at this Canadian classic. A perfect gift for long-time fans and a new generation of readers alike.
In the Franklin Classic Storybook that started it all, poor little Franklin has one of the most common childhood afflictions --- he is afraid of the dark. This is particularly distressing for Franklin as he happens to be a turtle, and the darkness he fears is, of course, inside his own shell. Bravely, with shell in tow, he sets forth to seek help and in the course of his travels discovers a bird who is afraid of heights, a polar bear who is afraid of the cold, and even a hydrophobic duck. In the end, Franklin discovers that everybody is afraid of something, even his own mother, and his response to what he has learned is guaranteed to draw a smile.
Ed Greenwood
Book: Elminster: Making of a Mage
In ancient days, sorcerers sought to learn the One True Spell that would give them power over all the world and understanding of all magic. . . . The One True Spell was a woman, and her name was Mystra -- and her kisses were wonderful. Priest Havilon Tharnstar Tales Told to a Blind Wizard It is the time before Myth Drannor, when the Heartlands are home to barbarians, and wicked dragons rule the skies. In these ancient days, Elminster is but a shepherd boy, dreaming of adventure and heroics. When a dragon-riding magelord sweeps down upon him, though, the boy is thrust into a world of harsh realities, corrupt rulers, and evil sorcerers. With patience and grit, Elminster sets about to change all that. The result of his labors is a world reborn and a mage made.
Farley Mowat
Book: The Boat Who Wouldn't Float
It seemed like a good idea. Tired of everyday life ashore, Farley Mowat would find a sturdy boat in Newfoundland and roam the salt sea over, free as a bird. What he found was the worst boat in the world, and she nearly drove him mad. The Happy Adventure, despite all that Farley and his Newfoundland helpers could do, leaked like a sieve. Her engine only worked when she felt like it. Typically, on her maiden voyage, with the engine stuck in reverse, she backed out of the harbour under full sail. And she sank, regularly.
How Farley and a varied crew, including the intrepid lady who married him, coaxed the boat from Newfoundland to Port Hope, Ontario is a marvellous story. The encounters with sharks, rum-runners, rum and a host of unforgettable characters on land and sea make this a very funny book for readers of all ages.
Scavenger Hunt (August 1 - 15)
The Lannon Family, in conjunction with the Heritage Business Association, have prepared a fun scavenger hunt throughout the downtown.
The Scavenger Hunt that will take place from August 1 to 15, 2021.
Grab your family, a friend or go solo and put on your thinking cap. Clues and art pieces will be displayed in the windows of several stores and businesses, located throughout Port Hope's Heritage Business District.
How to participate:
The Scavenger Hunt will begin on Sunday, August 1 and end on Sunday, August 15, 2021.
The first clue will be posted at the HBIA Office, located at 58 Queen Street (next to the town hall).
Twenty clues have been hidden in the windows of stores and businesses throughout the Heritage Business District. When you solve each clue, it will lead you to the next clue.
Write down your answers as the name of the stores where each clue was found in order. All correctly answered entries will go into a draw to win 1 of 4 prizes (Gift certificates and baskets with fun and unique items purchased and donated from local stores).
Gift baskets must be claimed in person – no courier deliveries. Prizes will be displayed at the Port Hope HBIA Office (in the window), located at 58 Queen Street.
Please include your name, phone number and email address with your submission. Only 1 entry per person.
Entries can be emailed to info@porthopehbia.com or dropped off in the mailbox located at Town Hall front entrance.
The winners of 3 gift baskets (themed around foodie, pampering and fun!) will be announced on August 17th via the HBIA's facebook.
Good luck and happy hunting!
Please remember COVID-19 protocols and if there are other participants gathered out front a shop window, please patiently wait your turn and maintain physical distancing.
Winners!
1st: $100 gift certificate to PoHo BoHo
Heather Brand
2nd: Pamper Me gift basket
Maureen Holloway
3rd: Fit for a Foodie gift basket
Daniel Kelly

4th: Family Fun gift basket

Sophie MacInnes and Lily Pearo
Impressions of Hope: photo contest
Submit photos of Port Hope in any one of five categories for the Impressions of Hope photo contest.
Contest opens August 3 and closed September 15, 2021.
Categories include:
In Everybody's Business
Out and About
Rural Roots
Wet and Wild
Days Gone By
Prizes for local businesses to be won. A random draw will take place September 17, so get those entries in (this is not a juried contest).
For more information visit: www.impressionsofhope.com
LJYO: Sonic Bloom
A proud member of the arts community in Port Hope, La Jeunesse Youth Orchestra, is committed to music education for youth (ages 10 10 22)!
Their 2021 annual concert, Sonic Bloom, was delivered virtually and is available for viewing here.
LJYO will be running zoom auditions and interviews for our 23rd season in early September for brass, winds, percussion and strings. This could be the year you join the orchestra!
Self-guided tours
Embark on a self-guided tour this August to learn about historic buildings and landmarks, find farm stands, antique barns, and movie shoot locations. Discover more Port Hope history and heritage, museums and stories while you're enjoy the sights and sounds of summer on the lakeshore.
Port Hope is a vibrant and creative community. The Port Hope Arts Festival and August is Arts Month was made possible thanks to these event partners and sponsors:
Sheila Drew, Sales Representative ReMax Lakeshore Realty Inc.
COVID-19 - Important Notice:
Precautions are in place to help prevent the spread of COVID-19
Service information on some pages may not be accurate during this time. Please refer to our COVID-19 Updates page for service changes.