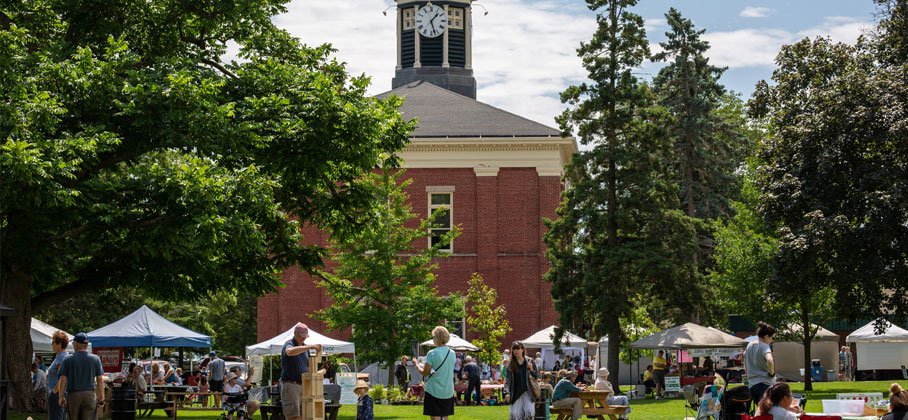 The Port Hope Arts Festival is a celebration of community, art, and agriculture right in our beautiful downtown. In partnership with the Port Hope Farmers' Market, artists, musicians, and a wide range of community groups, this outdoor festival sets out to connect us to the joys of the arts and each other.
Schedule of events
Mark your calendar for August 14, 2021! Event details coming soon.
Market vendor registration
The vendor market reflects the colourful mix of Northumberland County's culture by showcasing the diverse skills and products of local and regional artists.
Registration to be an art vendor will open and available here, in April 2021.
Vendor Market Overview
The Port Hope Arts Festival Vendor Market is comprised of over 50 art and craft vendors, set up alongside the 30 vendors in the Port Hope Farmers Market in the adjacent parking lot.
Vendor market map
The market takes place outdoors, on the back lawn of Town Hall and on a portion of Augusta Street.
The 2021 vendor map will be posted in the spring of 2021.
Notes for vendors:
The Arts Festival is open to established and emerging artists and makers
All vendors must apply
Only confirmed vendors will be charged the vendor fee of $40.00
Vendors are required to bring all their own setup materials for their 10x10 outdoor space (tent, table, chairs, racks, etc)
On event day, all vendors must not drive or park on the lawn.
Vendor parking is available nearby, just south of Town Hall or the Elias St lots.
Directions to your vendor spot and promotional material will be shared with all confirmed vendors prior to the event.
The Festival is rain or shine, please prepare for the elements.
The Port Hope Farmers Market opens at 8:00 a.m.
Please remain set up until 3:00 p.m.
If you have questions about the Port Hope Arts Festival, please contact Jeannie.
Event partners and sponsors
The Port Hope Arts Festival takes place on the second Saturday of August annually.
We are seeking event partnerships and sponsorship to assist us in the delivering a creative and engaging event experience.
Sponsorship provides an opportunity for organizations to connect with the Arts Festival audience and a variety of regional artists. Email us today to discover how you can be a part of this annual summer event.
Confirmed partners to date:
COVID-19 - Important Notice:
Precautions are in place to help prevent the spread of COVID-19
Service information on some pages may not be accurate during this time. Please refer to our COVID-19 Updates page for service changes.