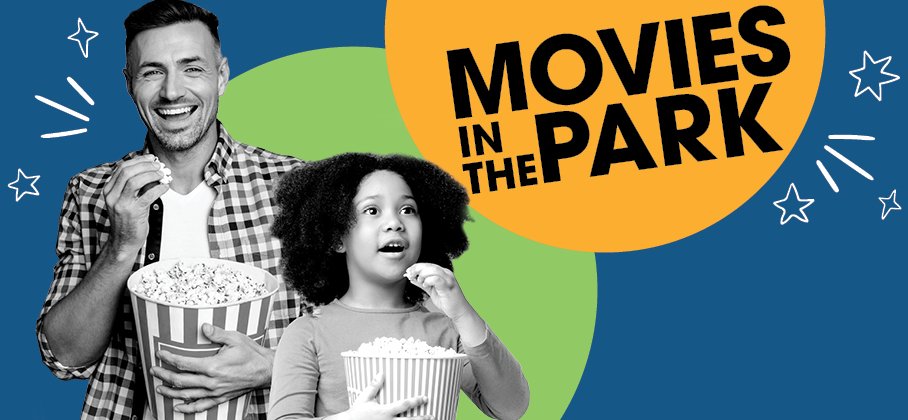 Join us in Memorial Park for outdoor movies this summer. Relax under the stars with family and friends.
Some concessions will be available for purchase in the park. Takeout from your favourite local restaurant or snacks from home are also encouraged. Come on down and enjoy the show.
All films will begin at dusk. Where possible, movies will be shown with subtitles.
In the event of inclement weather, the rain location will be the Fall Fair Centre (62 McCaul St).
Film selection
We partnered with Film Access Northumberland (FAN) this year to select a program of fun, heart-warming, and inspiring films to experience with the whole family in the Park! Each of these films has a Canadian connection.
Film Access Northumberland (FAN) is a charitable organization that connects Northumberland to world-class talent and films through such initiatives as the Eye2Eye International Film Festival, and presents local and diverse talent to Canada's wider film community.
Movie line-up for the 2022 season
June 30 • Luca
Special Canada Day event edition! Shout out to our Canada Day event sponsors Turtle Johns, Norpak Handling Ltd. and Whale Family Chiropractic.
Why FAN selected this film
Luca 2021, 1 h 35 minutes. Animated Rated PG

Set on the Italian Riviera, Luca is a coming-of-age story about one young boy experiencing an unforgettable summer filled with gelato, pasta and endless scooter rides. Luca (voiced by Canadian actor Jacob Tremblay) shares these adventures with his newfound best friend, Alberto (voice of Jack Dylan Grazer), but all the fun is threatened by a deeply-held secret: they are sea monsters from another world just below the water's surface.
July 13 • The Biggest Little Farm
A fun family film about the development of a sustainable farm. This documentary that tells of triumph and heartbreak.
Why FAN selected this film
Biggest Little Farm 2018, 1 h 31 minutes Documentary.
Molly and John Chester and their family decide to leave their old lives in Los Angeles behind and purchase an abandoned, 81-acre farm. The couple spends the next seven years transforming the arid landscape into "Apricot Lane Farms", a habitat for animals. The Chester's prove that with perseverance and teamwork we can make a difference and improve our environment. The Toronto International Film Festival helped this film get noticed by winning a People's Choice Award for Best Documentary.
July 27• Ghostbusters: Afterlife
Calling all Ghostbusters fans! This is a supernatural comedy that revisits the legacy of our favourite Ghostbusters from the 80's.
Why FAN selected this film
When a single mother and her two children move to a new town, they soon discover they have a connection to the original Ghostbusters and the secret legacy their grandfather ('Egon Spengler' played by Harold Ramis) left behind. The original cast members, Bill Murray, Dan Aykroyd, Ernie Hudson, Annie Potts and Sigourney Weaver, reprise their roles in this comedy adventure.

FAN selected this film because the original Ghostbusters film was produced and directed by Canadian filmmaker Ivan Reitman (Meatballs, Stripes, Space Jam) and written by Dan Aykroyd and Bill Murray. This sequel is directed by Ivan's son, Montreal filmmaker Jason Reitman (Juno, Up in the Air) and is dedicated to his father.
August 10• Shang-Chi and the Legend of the Ten Rings
Martial-arts master Shang-Chi confronts the past he thought he left behind when he's drawn into the web of the mysterious Ten Rings organization.
Why FAN selected this film
Marvel Studios' Shang-Chi and The Legend of The Ten Rings 2021 2 h 13 minutes
Live Action Rated PG
"Shang-Chi and the Legend of the Ten Rings" is the action-packed origin story of superhero Shang-Chi (Canadian actor Simu Liu). He is the son of the superhumanly powerful leader of the underground criminal organization the Ten Rings – When Shang-Chi is a teenager, he abandons his destiny in order to live a normal life, but with the help of his best friend and sister he comes back to face his destiny. This film is about teamwork, and courage and features the first all Asian cast in a Marvel film.
August 13• Long Time Running
Special Presentation for Arts Festival showing a short and a documentary both directed by local filmmakers.
Why FAN selected this film
Long Time Running 2017 1 h 37 min Documentary
"Long Time Running" is a Canadian documentary film, directed by Port Hope residents and award-winning filmmakers Jennifer Baichwal (Manufactured Landscapes) and Nicholas de Pencier. The film profiles the Canadian rock band The Tragically Hip during their Man Machine, which followed the band on their last tour after lead singer Gord Downie announced he had terminal cancer. Baichwal and de Pencier, who have known the band for over 20 years created a hopeful, beautiful tribute to a truly Canadian band.
...
A special screening of the award winning short film, 'A Lifetime of Love', by local filmmaker Adrienne Eagleson, will also take place on August 13.
The film is described as a "charmingly original and unpretentious film that reveals the filmmaker's remarkable potential for growth in the Canadian film industry".
Film Access Northumberland has partnered with the Port Hope Arts Festival to highlight the work of local film professionals and the next generation of talented and innovative storytellers this August.