Enjoy a variety of experiences and activities with family and friends during seasonal times. Check this page frequently for community challenges, holiday and seasonal fun. The Parks, Recreation and Culture staff are continually coming up with creative activities to keep you active and engaged during this pandemic.
The government of Ontario has implemented a Province-wide lockdown. This measure prohibits use of all indoor recreation activities. More details regarding COVID-19 impacts to the Municipality are available on the
COVID-19 webpage
.
Please watch our website for
virtual programs
being offered regularly.
Spring Activity Booklet
The Department of Parks, Recreation and Culture has developed an activity booklet with fun, creative activities for everyone all related to Port Hope.
This booklet is full of fun activities and information about Parks, Recreation and Culture and what to look forward to in the coming months such as: events, June is Parks and Recreation month, Easter activities and more. Continue to watch our recreation page on a regular basis to keep informed on all of our updates.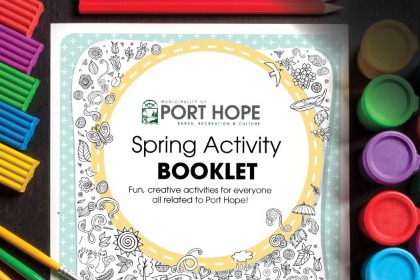 Spring activity booklet content
Activities included in this booklet are listed below
Fitness tips for at home
Fitness tips for at home
Use water bottles or bottles with sand for weights
Challenge yourself – see how many squats you can do and do 1 more each day for a month
Use a wall for Push Ups
Tricep dips on a chair
Step ups on the stairs
Jump rope
Use tape to make a line on the floor and jump back and forth over the line
Throw on some music and dance
Kids Superhero workout
Lay on your tummy, lift your arms and legs off the floor like your soaring through the air
Run really fast on the spot
Stand in a lunge position with your arms up – this is your brave position
Superhero's jump far distances – stand in one spot, bend your knees and pump your arms and jump as far as you can. See if you can beat your distance each day
Crawl on the floor using your arms to move you
Port Hope bingo
Try out these spring activities
Go for a bike ride
Skip rope
Plant a garden
Fun or walk the track at Town Park Recreation Centre
Try a yoga class
Try Hula Hooping
Skip some stones at the river/beach
Go on a scavenger hunt
Take a hike on a trail
Visit the Cavan Street fitness park
Tay out the equipment at Riverside Park
Visit the skate park at Town Park Recreation Centre
Watch a sunset or sunrise
Play basketball
Explore a conservation area
Reorganize or redecorate your bedroom
Pick up some garbage in your neighbourhood
Walk the track at Baulch Road
Try something new or learn a new skill
Do something nice for someone
Bake some cookies
Reserve a swim at Jack Burger Sports Complex
Paint a rock and place it at Peace Park on Cavan Street
Visit the Port Hope east or west beach
Spring crafts
Bubble art
Have some fun and create a masterpiece using bubbles.
Ingredients
1/3 Cup Original Blue Dawn Dishwashing Soap
1 1/4 Cup Water
2 Tablespoons Sugar
Food coloring
Mix sugar in the water until sugar dissolves.
Slowly add dishwashing liquid
Instructions
Divide mixture up into jars and add food coloring as desired-- 5-10 drops per 1/4 batch of solution.
Note: Bubble and bubble solution may stain – best used outside and wear clothes that you don't mind if they get stained.
Once you have made your bubble solution blow some bubbles onto a piece of paper to make some bubble art! A straw makes a great tool to blow bubbles with. Have fun!
Edible marshmallow paint
A fun and exciting way to decorate your cookies, graham crackers, or any yummy dessert! Bring the family together for a decorating party and try out this recipe that is fun for all ages!
You will need:
1 cup of marshmallows (about 12 large marshmallow)
¼ cup of water
2-3 tablespoons of light corn syrup
Food colouring
Popsicle sticks or Paint brushes (new and cleaned brushes)
Small containers, one for each colour of food colouring you plan to use
Instructions:
Add your cup of marshmallows to a microwave-safe bowl. Heat marshmallows in the microwave for 30 seconds. The marshmallows will expand. Next, stir in the water and microwave the mixture for an additional 30 seconds. Stir well so the heated marshmallows melt completely. Keeping stirring until the mixture is smooth. If needed, microwave in 15 second intervals until the marshmallows are melted. Once melted, stir in the light corn syrup until it reaches the right consistency. Using your small containers, add some of the marshmallows to each one and add a few drops of food colouring. Let the mixture cool.
Time to paint! Using a popsicle stick or paintbrush, paint your coloured marshmallow mixture on to your dessert. Create some fun designs, try a rainbow, or use your imagination. Have fun!
Port Hope scrambler and answers
Below are some words to unscramble that represent the different equipment and machines the Parks, Recreation and Culture staff use to maintain our facilities and parks.
BMNZIAO
CIE GREED
PPHRICE
CRUKST
YOPLMAI
EDEW TAREE
ELTIRRAS
Answers to the above scrambled words
ZAMBONI
ICE EDGER
CHIPPER
TRUCKS
OLYMPIA
WEED EATER
TRAILERS
Cold water safety
Below are some tips to cold water safety
Drowning doesn't just happen to non-swimmers in the summer. Approximately 35% of drownings In Canada occur from October to April when most people have no Intention of going Into the water.
The temperature of water in lakes, rivers and oceans during the summer in Canada is often very cold.
It is important to be prepared and to be aware of the risks associated with cold water.
Wearing a lifejacket is the most important thing you can do to survive an unexpected fall out of your boat into cold water.
A lifejacket will keep you afloat and keep your mouth out of the water so that you can breathe and so that you can get back to the boat.
If you fall into cold water
Look for your lifejacket and put it on if you are not already wearing it.
Try to get as much of your body out of the water as possible.
Try and get back into your boat.
Crawl on top of your boat if it has overturned.
Minimize your movement as moving increases heat loss.
Hug your body or huddle with others to minimize heat loss.
Source: www.lifesavingsociety.com
ALL children should learn to swim. We can teach them.
Please visit our aquatics page to learn about swimming lessons.
Port Hope trivia and answers
Test your knowledge of Port Hope, can you answer the questions below?

What Port Hope Street has a North, a South and a Little?
In 2020, the Port Hope Santa Claus Parade was modified, making it the ____ annual.
How many Port Hope Civic Award categories are there?
What is the name for the "make your own boat, anything that floats" category in the traditional Float Your Fanny Down the Ganny Race?
In what year was the Jack Burger Sports Complex revitalized?
How many historic barns are featured in the ACO Barn Quilt Project?
Where is Port Hope's outdoor fitness park located?
What is the name of the local service club who ran the beer gardens at the 2019 Port Hope Canada Day celebration?
Where is the Little Station House located?
Answers to the above trivia questions
Hope Street: N, S and Little Hope
84 annual
9
Crazy Craft
2015
23
Cavan Street Park
Port Hope Rotary
Lent Lane, or 1 Elias Street - it's all about perspective
Finding Farley
In celebration of what would have been Farley Mowat's 100th birthday on May 12, 2021, the Municipality has proclaimed May 10 to 16 Farley Mowat Week and renamed a local Park, Farley Mowat Park, to pay tribute to the iconic Canadian author, amid other celebrations planned by the Rotary Club of Port Hope.
These themed activity sheets can help your family observe Farley Mowat Week safely from home. Click the button below to download a word scrambler, word search, colouring sheets and more:
Download Finding Farley activities
Make sure you visit our Community Events page for other fun activities happening around the Community.
COVID-19 - Important Notice:
Precautions are in place to help prevent the spread of COVID-19
Service information on some pages may not be accurate during this time. Please refer to our COVID-19 Updates page for service changes.