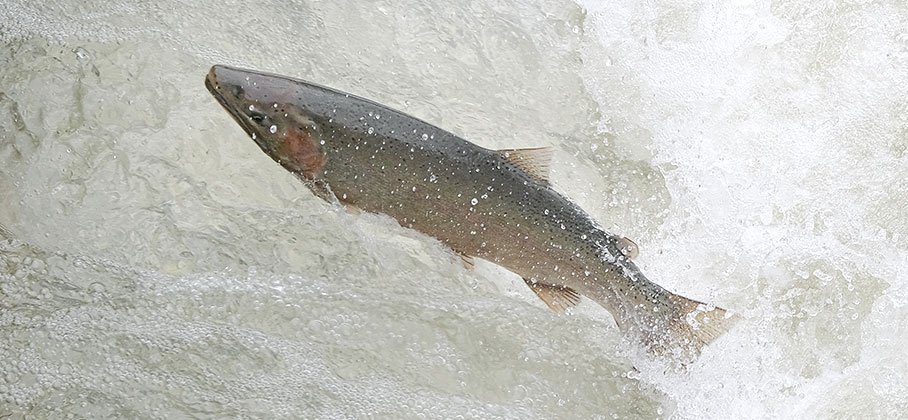 The Ganaraska River in the Municipality of Port Hope offers some of the most diverse fishing experiences in the Province and draws people from far distances. Some of the best trout and salmon fishing in the Ontario happens here, with fish reaching up to 40 pounds. The Ganaraska River is one of the healthiest rivers in the Province, populated almost entirely with wild naturally-reproducing fish.
The River offers various year-round fishing opportunities. A variety of fish enter the River, including:
Salmon
Rainbow Trout (Steelhead)
Pyke
Walleye
Perch
Catfish
Smallmouth Bass
Freshwater Drum
Fishing guidelines
Important fishing regulation information and a handy map can be found in the River Watch Brochure authored by the Ganaraska River Conservation Authority.
Rules and regulations
The Ganaraska River is in Fisheries Management Zone 17

Fishing is not permitted in the Fish Sanctuary from Highway 401 downstream to the south side of the Jocelyn Street Bridge

Fishing is prohibited on the Ganaraska River between 8:00 p.m. and 6:00 a.m. from August 15 to September 30 from the Robertson Street Bridge to the Jocelyn Street Bridge
Licences
There is zero tolerance for illegal fishing. Please carry a current fishing licence at all times. Licenses can be purchased at Service Ontario, Port Hope
Seasons
Atlantic salmon - catch and release only
Bass - open from the third Saturday in June to December 15 of each year
Trout and salmon - open from the fourth Saturday in April to September 30 of each year
Fish ladder
The Ganaraska River Fishway is also known as the fish ladder and is operated by the Ministry of Natural Resources and Forestry and local volunteers. During the month of April up to 8,000 migratory Rainbow Trout or Steelhead make their journey up the Ganaraska River to spawn. Staging and spawning also takes place in the riverbed below the fish ladder.
During the fall, the salmon make their way up the river to begin spawning. You can watch the fish swim upstream and jump up the fish ladder that was built to get them past Corbett's Dam.
COVID-19 - Important Notice:
Precautions are in place to help prevent the spread of COVID-19
Service information on some pages may not be accurate during this time. Please refer to our COVID-19 Updates page for service changes.