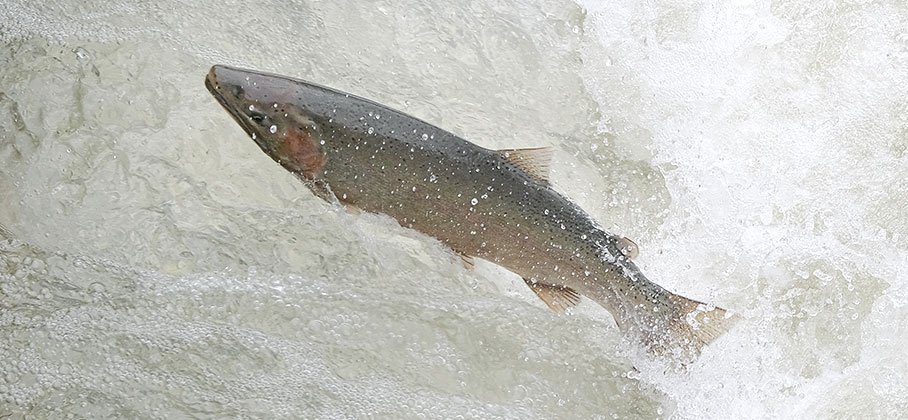 The Ganaraska River in the Municipality of Port Hope is one of the healthiest rivers in Ontario and is populated almost entirely with wild, naturally reproducing fish. The River offers some of the most diverse fishing experiences in the Province, drawing people from far and wide to fish and watch the fish migrations each year. Additionally, our Boat Launch, Marina, and Fish Cleaning Station on our waterfront ensures that the fishing experience in Port Hope exceeds your expectations.
Fishing guidelines
Our river and waterfront are some of our most cherished natural resources. We want you to experience and enjoy our waterways, and we ask that you respect the river and our environment.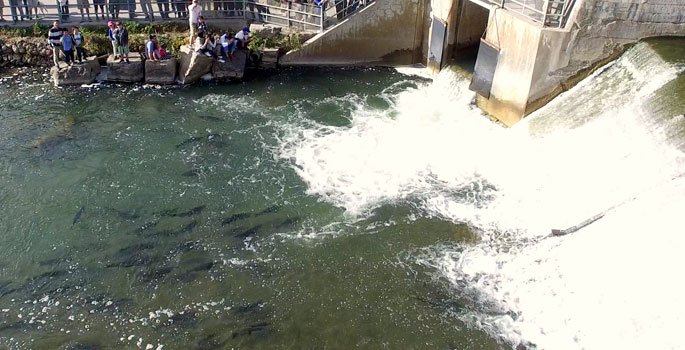 COVID-19 Protocols
Physical distancing measures are still in effect. Stay 2 metres apart.
If you can not distance, wear a mask and find a spot where distancing is possible.
If you plan to visit a local business for food or gear, you will be required to wear a mask inside the building.
If you are feeling unwell and/or have known COVID-19 symptoms, stay home and self-monitor. Do not visit the River.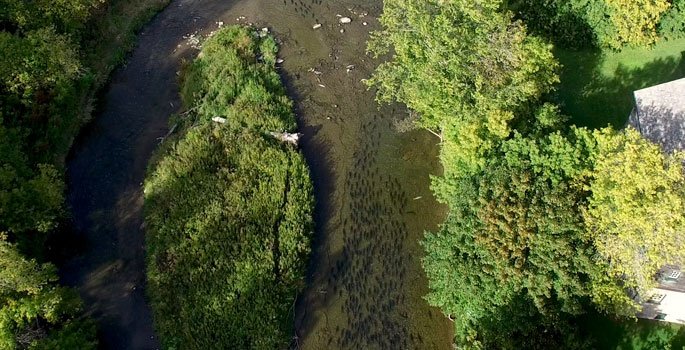 Respect the River
Do not litter. Properly dispose of any extra fishing lines, food and drink containers, masks, etc. or bring them home with you.
Respect our natural resources – Take only what you need and follow protocols and fish limits, per government guidelines. See chart below.
Dispose of fish properly and respectfully. Take care of our River and our community.
Night fishing is not allowed on the Ganaraska River between 8 p.m. and 6 a.m. from Aug. 15 to Sept. 30 (Robertson Street Bridge to the Jocelyn Street Bridge).
Watching the salmon migration in the Ganaraska River is a privilege.
Do your part to ensure that our natural resources are maintained.
Please Note: The fishing season ended on September 30, 2021.
Fishing rules and enforcement
Increased and dedicated enforcement on the Ganaraska River occurs during the Salmon migration. Members of the Port Hope Police Service (PHPS), the MNRF and Municipal By-law Enforcement will be patrolling the River to educate people and enforce the regulations.
All fishing in Ontario is regulated by the Northern Development, Mines, Natural Resources and Forestry (MNRF). For questions about guidelines and licensing, fishing seasons, and fish limits, please see the chart below, or contact the MNRF at 1-800-667-1940
To report resource abuse, please call 1-877-847-7667
While fishing, you must carry your valid Outdoors Card and Licence Summary.
The Ganaraska River is in the Fisheries Management Zone 17
The River Watch Brochure authored by the Ganaraska River Conservation Authority has important fishing regulation information and a handy map.
For in-person licence purchases, please visit the Port Hope ServiceOntario office at 58 Queen St.
Fishing is prohibited on the Ganaraska River between 8 p.m. and 6 a.m. from Aug. 15 to Sept. 30 from the Robertson Street Bridge to the Jocelyn Street Bridge.
No fishing in the Fish Sanctuary from Highway 401 downstream to the south side of the Jocelyn Street.
Do not transport live fish, other than baitfish, taken from Ontario waters or to transfer or stock any live fish or spawn into Ontario's waters without a special licence to transport or stock fish.
Do not fish for or possess any species of fish listed as Endangered or Threatened under the provincial Endangered Species Act and/or federal Species at Risk Act.
You can not sell or buy any recreationally caught fish (including taxidermy mounts), crayfish, leeches, frogs or fish eggs. Only holders of commercial fishing or commercial bait licences may sell their catch.
Do not take fish with a gaff, snare, snagger or spear gun, or possess a spring gaff, snagger or spear gun, or a snare for the purpose of fishing, within 30 metres of any waters. A spear is only permitted within 30 metres of any waters when it is being used in accordance with non-angling methods of capturing fish. A gaff, other than a spring gaff, may be used to assist in landing fish caught by lawful means. A spring gaff includes any device which uses a mechanical spring, other than the fishing rod under tension, to set the hook for an angler. catch or retain a fish by impaling or snagging it with a hook through any part of the body other than the mouth. Fish hooked in this way must be released immediately.
Do not fish by any means other than angling, spear, bow and arrow, dip or seine net or baitfish trap. See non-angling methods of capturing fish and bait for more information.
Do not abandon fish or permit the flesh to spoil, if the fish is suitable for human consumption.
Bass - open from the third Saturday in June to December 15 of each year
Trout and salmon - open from the fourth Saturday in April to September 30 of each year

Atlantic salmon - catch and release only

No fishing in the Fish Sanctuary from Highway 401 downstream to the south side of the Jocelyn
For a map on where you can fish during each time of the year, view the River Watch Brochure authored by the Ganaraska River Conservation Authority.
See below for the limits on conservation and sport licences. As a reminder, this information is subject to change and it is ultimately the responsibility of the fisher to know the regulations. See the first tab for the most up to date information. Chart current as of June 7, 2021.
Licence limits

| Fish species | Sport licence limit | Conservation licence limit |
| --- | --- | --- |
| Trout and Salmon | 5; only 2 can be Rainbow Trout | 2 |
| Bass | 6 | 2 |
| Walleye | 4 | 1 |
| Yellow Perch | 50 | 25 |
| Sunfish | 300; only 30 may be greater than 18 cm | 15 |
Fishing the River is not accessible by private property. Land owners have rights that are supported by Police and By-law enforcement teams.
COVID-19 - Important Notice:
Precautions are in place to help prevent the spread of COVID-19
Service information on some pages may not be accurate during this time. Please refer to our COVID-19 Updates page for service changes.