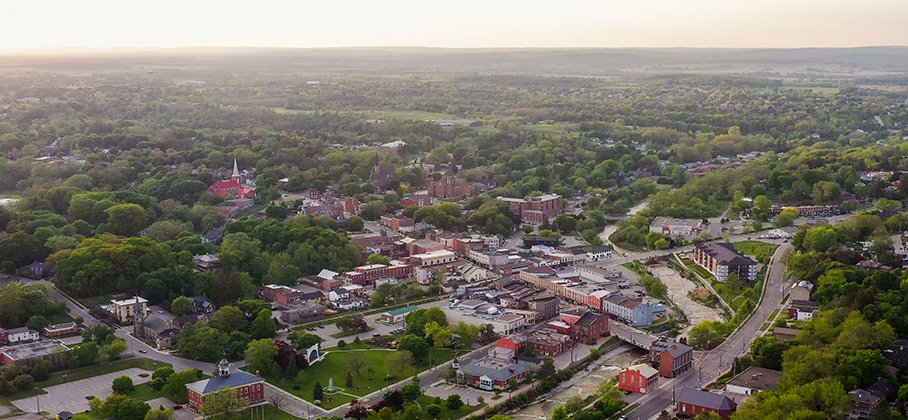 The Municipality of Port Hope tracks, maintains, and cares for its assets through its vigorous asset management plans and reports.
What is asset management?
Asset management is an organization's planned approach to realize value from its assets. As a municipality, corporate asset management helps us care for the infrastructure that delivers services that contribute to the quality of life of the community. Asset Management is an on-going process and a journey that seeks incremental improvement overtime.
The Municipality of Port Hope owns and operates a substantial portfolio of assets across different service areas. These assets are essential to the well-being of the community and form an integral part of our communities long-term financial and service delivery planning.
Why is asset management important?
Asset Management planning helps us deliver safe and sustainable services in a predictable and cost-effective manner. The Corporate Asset Management Program aims to advance the municipal asset management practices to deliver the expected levels of service while managing risks and using resources wisely. The following infographic and highlights the main components of asset management process which need to be balanced in order to create sustained value for the residents.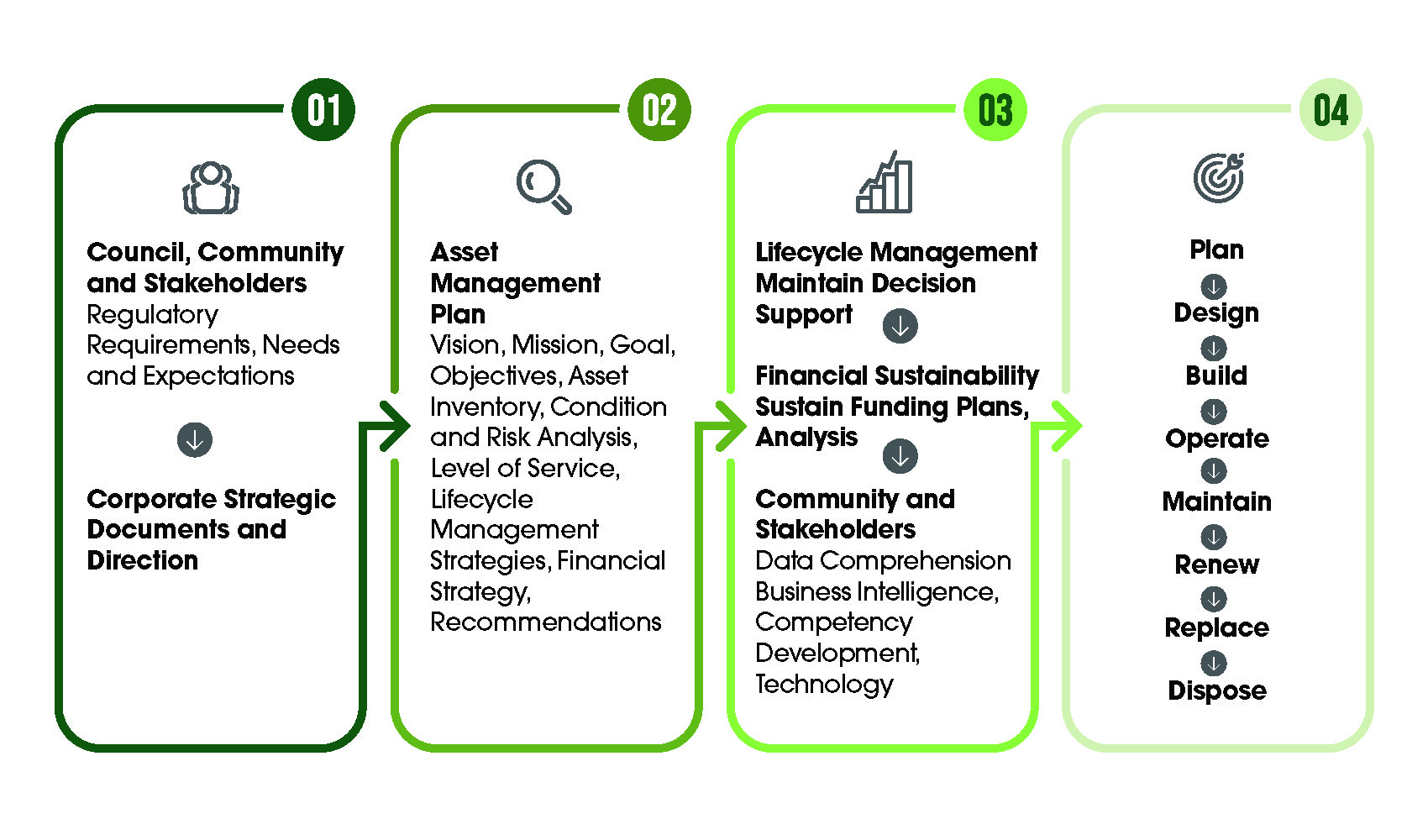 Asset Management process
Council, community and stakeholders are involved in the process first, to determine and map out the regulatory requirements, needs, and expectations. This is then merged into corporate strategic documents and direction.
From there, an Asset Management Plan is developed, which includes, vision, mission, goals, objectives, asset inventory condition and risk analysis, level of service, lifecycle management strategies, financial strategy, and recommendations.
The Lifecycle Management is created to maintain decision support, which supports Financial Sustainability, developed to sustain funding plans.
This process culminates in a plan that assists the municipality with current and future asset plans, design, builds, operations, maintenance, renewals, replacement, and disposal.
One way of thinking about asset management is to compare it to the maintenance and care that we give to our homes. The following table illustrates some of the tasks taken to ensure your home is running well and related task the municipality takes on to ensure municipal services are well run. This is what forms part of the Asset Management Plans.
Task comparison: home versus municipality

| My well run home | My well run municipality |
| --- | --- |
| We keep our home safe and in good condition. | The Municipality keeps public infrastructure in good working and safe condition |
| We do timely maintenance for home roof and equipment to avoid break ups and prolong service life. | Municipality conducts timely inspections and repairs to its assets to deter high replacement costs. For example roads resurfacing every 15 years. |
| We save money in advance for the major repairs and buying new furniture and equipment. | Municipality evaluates funds needed to maintain and replace assets and reserves money in advance. |
| When spending money we prioritize important matters. For example, we may prioritize fixing a leaky roof over buying a BBQ. | Municipality prioritizes replacement/refurbishment of assets that pose high risk to the Community and have high impact on people |
| We shop around to find appropriate home equipment at reasonable prices. We buy durable and longer lasting equipment. | Municipality ensures that assets procured are cost effective throughout the whole life cycle – from purchase to disposal. |
| We care about impacts on environment. We are reducing, recycling, and buying energy efficient products to minimize our carbon footprint. | Municipality is serious about impacts on climate change. Municipality is developing natural asset plans, planting more trees and maintains trees and parks. |
| To address climate change impact, we may buy flood protection insurance or install air-conditioning in the house. | Municipality takes steps adapting to climate change risks such as upsizing stormwater pipes and preserving wetlands and forests. |
| We plan to coordinate repairs to minimize family disruptions and save money. | Municipality strives to coordinate upgrades so disruptions and costs are minimized. |
Access Asset Management Plans and Documents by Timeline
The following highlights the asset management plans and timelines of implementation. If you require an accessible copy of any of the documents, please contact us by phone at 905-885-4544 or by email.


Asset management planning is a requirement for many Provincial and Federal grant programs including the Canada Community-Building Fund, which the Municipality receives funds from every year. The Province of Ontario may also make asset management planning and/or policies a requirement under the Jobs and Prosperity Act, 2014. Having an asset management program puts Port Hope in a progressive position for future grant opportunities and changes to legislation.