Mayor's Corner - February 17, 2023
Mayor's message
Random Acts of Kindness Day
In last week's post, I shared that I would be participating in International Random Acts of Kindness Day and I encouraged you to do that same. This morning I set out downtown to hand out delicious and beautiful cupcakes (masterfully created by a local baker). Here are a few photos of the happy folks I met along the way.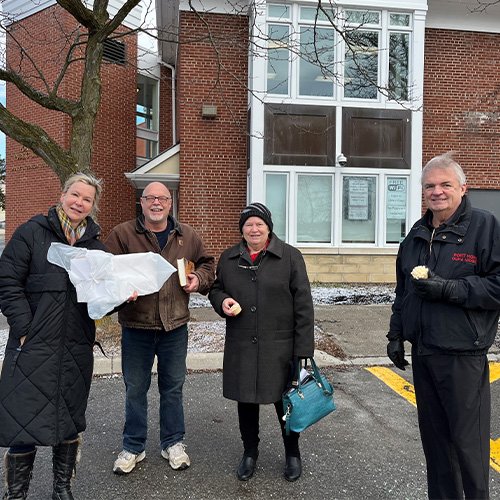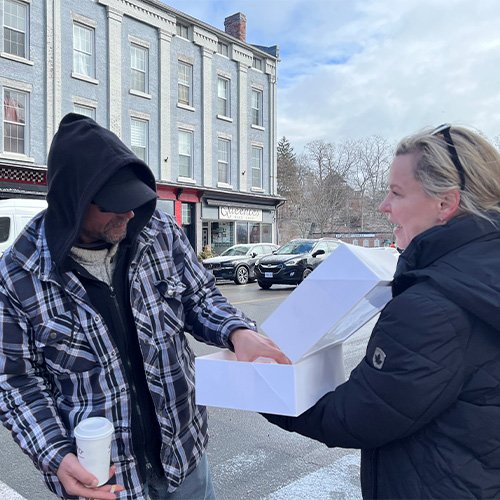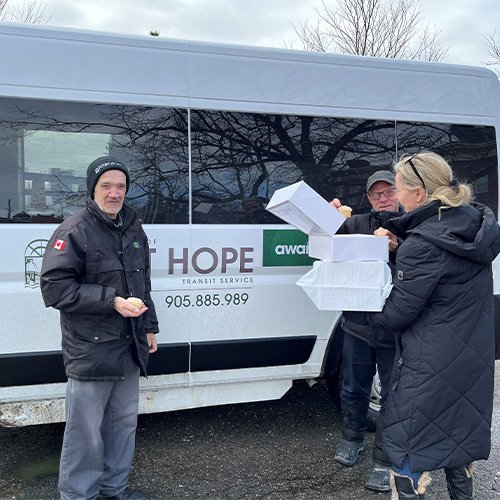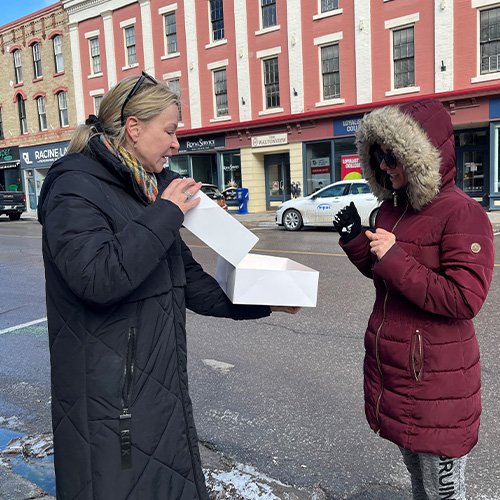 Kudos to our Water Division staff
In last week's edition, I noted that our drinking water systems received 100 per cent compliance and our Drinking Water Quality Management System received a perfect score (for the first time ever) for the 2022 year. To learn more about this, read the news story posted on our website.
Building on that great news, I wanted to share a few interesting facts about the Water Division:
The Division has an informal partnership with Fleming and Durham College. Staff provide tours and educational sessions for the Water and Environmental Tech Programs. Additionally, tours are provided (upon request) to various local schools, and to anyone interested in learning more about the water system.
Our Water Treatment Plant was one of the first in Canada with ultrafiltration membrane technology. The Plant was built in 2005.
We have a high recovery rate at the Water Treatment Plant - 99.3% of water coming into the Plant is efficiently used and repurposed:

88 to 92% of water is sent to the consumer.
8 to 12% is backwash water (waste) following treatment. Most of the backwash water goes back to Lake Ontario after solids are removed.

Staff help train employees from other communities and partner with Veolia (formerly Zenon) as a local training ground for their Field Service Techs located throughout the world. (COVID-19 has unfortunately put a hold on this activity, but we are hoping it will resume).
Finally, the Water Division staff want residents to know that the number one cause of high-water bills is leaking toilets. To test yours, simply add five drops of food colouring in the back of toilet (the tank), let sit for around 30 minutes. If you see dye in the toilet bowl, a leak exists - call your plumber and lower your water bill!
Advancing municipal business
Zoning By-law Review
Staff are in the process of reviewing the Zoning By-law to implement a number of 'housekeeping' revisions. This update will ensure that the Zoning By-law continues to effectively implement the priorities of the Municipality and community, is consistent with other Municipal documents, and is easy to understand and interpret.
A project page is available on My Port Hope, our community engagement website. The page includes lots of background information about the Zoning By-law review as well as a details about the proposed changes. Please visit the project page, review the information and provide your comments.
Additionally, there is a statutory Public Meeting scheduled for Wednesday, March 1, 2023 at 7:00 p.m. in Council Chambers at Town Hall. Members of the public are invited to attend to learn, ask questions, and provide feedback about the By-law review.
Did you know...?
Commuter Connect – a one year long pilot project - shuttle bus service was introduced September 2022. It is a collaboration between Northumberland County, Metrolinx, and Hop In Technologies and is designed to provide a convenient and affordable way for residents to connect with communities across Northumberland and to GO transit services in Oshawa.
The shuttle bus service offers an inter-county route – the Northumberland Line – and an Oshawa route – the Durham Line – running Monday to Friday. The Northumberland Line offers a schedule with stops in Campbellford, Brighton, Colborne, and Cobourg, with five pickup times each day. The Durham Line connects Cobourg and Port Hope with the Oshawa GO transit station, traveling westbound four times daily, and with five scheduled runs back to Northumberland.
Port Hope residents are discovering how convenient and affordable the service is to visit with friends and family, attend events and out-of-town appointments, and to get to work or education and training. One rider, Amanda, values the opportunity "to bring my children into the city to spend family time and do fun activities. Commuter connect allows flexible, affordable transportation with easy connection to the GO transit system." Sharon, another resident, focuses on the quality service: "Commuter Connect provides fantastic service. I have much appreciation for the accuracy in the shuttles showing up according to schedule. I hope it keeps going as this is exactly what Northumberland County needs."
Since January 1 alone, ridership for the Durham Line is up 34 per cent, while use of the Northumberland Line is up 59 per cent. The service is also benefiting the environment. With fewer cars on the road, Northumberland is a healthier community because of improved air quality and reduced CO2 emissions.
Interested in using the Commuter Connect service to get on your way? Visit CommuterConnect.ca to register for Rider Credits (tickets), view the schedule and pricing, and to learn more. Prefer an in-person option? Purchase Rider Credits at Community Care Northumberland's (CCN) 1158 Division Street, Cobourg location. In-person registration is also available at CCN's Campbellford and Brighton locations.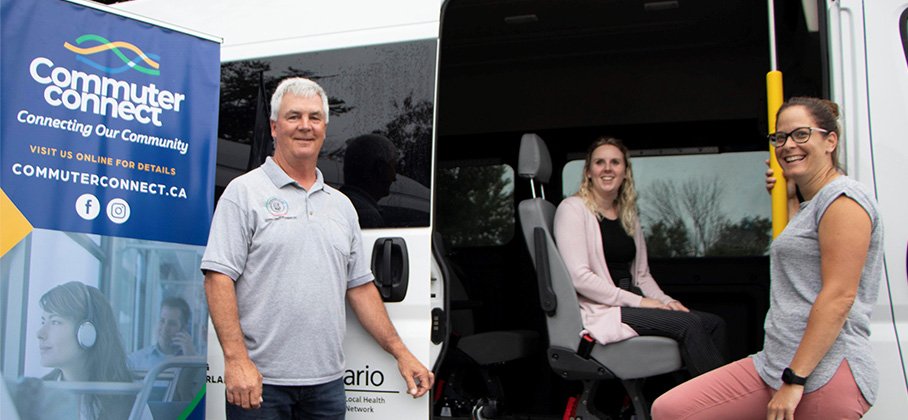 Council around Town
Our calendars are quite full these days. Here are just some of the events and activities that we're participating in around the community:
I will be cutting the ribbon at the Shopper's Drug Mart grand opening celebration - February 18
I am a judge for the Repair Cafe's Cardboard Challenge at St. John's Anglican Church - February 18
Councillor Claire is attending the Repair Cafe at St. John's Parish Hall - February 18
Family Fun Day at Town Park Recreation Centre - February 20
Councillor Claire will be speaking to a grade 5 class at Beatrice Strong Public School - February 22
Upcoming Meetings
Council and Committee of the Whole Meetings take place Tuesday, February 21, in the Council Chambers at Town Hall.
Public Meeting for the Zoning By-law Review - March 1 at 7:00 p.m.
---
The next edition of Mayor's Corner News will be available on February 24. Subscribe to this news channel to receive an email notification when the weekly publication is published on our website. Follow us on Facebook and Instagram – the Mayor's Corner News post will be available there, too!